Fifty miles north of Elko, NV, at a ranch near the tiny desert town of Tuscarora, an IBEW 1245 line crew from NV Energy was tasked with rebuilding an aging single-phase line.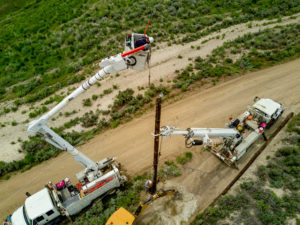 "This line has been out here for a long time. It's old, and the spans are real long. Real loose, sloppy wire," said NV Energy Lineman Willis Bland, who was part of the six-man crew assigned to the job. "So we're going through re-spanning the line, shortening things up, and getting a little more separation between the phase and the neutral so we don't have outages and blown fuses."
When the Utility Reporter caught up with Bland and his crew, they were working to interset a hot single-phase pole situated on a rugged dirt road.
"We're mid-spanning it right now, so what we'll end up doing is using this big bucket to go up, get ahold of this phase that running across the line here," Bland explained as he gestured to the line overhead. "And there's a little bucket up the hill at the existing pole that's up there. Me and Aaron Coulson — he's another journeyman lineman — we'll go up there, get it untied, and then the guy in the bucket will lift that phase and get it out of the way. That will make room for us to set the new pole, and once the new pole's in, we'll land that wire in there, cut that pole top out, and that'll be that."
The work was pretty straightforward, and the quiet, scenic desert surroundings were extraordinarily peaceful – but as any lineman knows, any time you're on a job, things can change in the blink of an eye.
As Bland was talking with the Utility Reporter, he heard a commotion a few yards down the road, and when he looked over, he saw a flat-bed farm truck that had driven off the narrow, unpaved street.
In true IBEW 1245 tradition, the crew quickly went over to check on the driver (who thankfully was ok) and then proceeded to help him get his vehicle back on the road before returning to work.
Bland and his crew take care of eachother and the community they serve – and Bland knows that he also is fortunate to have the union there to take care of him and his co-workers.
"There's a lot of good things about the union. You have them looking out for you, watching your back. You have somebody advocating for you on your behalf. If you have problems, if you have questions, the union's there. To me, that's huge," said Bland. "And it's just good to be with a brotherhood of guys that are well-trained. I know everyone here got the same training, the same background… I actually worked non-union construction for 10 years, and the difference is night and day. It's much better over here."
Photos by John Storey