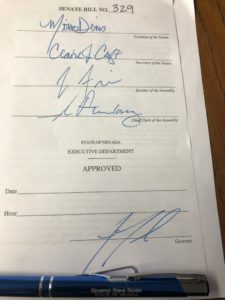 On May 22, Nevada Gov. Steve Sisolak signed SB 329 (Brooks) into law. This new natural disaster bill requires the state, its regulators and its utilities to take prudent steps to reduce the frequency and intensity of wildfires by adopting new forest management practices, undertaking fuel reduction and vegetation trimming, and requiring the hardening of electric utility infrastructure.
SB 329 was strongly supported by IBEW 1245 as well as Las Vegas-based IBEW Local 396, and the law contains several key provisions that will benefit IBEW members in Nevada, as well as the customers and communities they serve. The new law requires the utility to establish a safety, reliability, and resiliency plan (known as the NV Energy Natural Disaster Protection Plan) with the Public Utilities Commission of Nevada (PUCN) by 2020. Rural Electric Cooperatives will be encouraged to adopt similar plans and, on an advisory basis, file them with the PUCN.
These plans will include significant grid hardening projects, which will provide a good amount of work for IBEW members for years to come. Since the law requires NV Energy to comply — separately from the General Rate Case — it guarantees that this work will be done and is not subject to limitations in funding or other potential roadblocks. The PUCN must implement these improvements.
Additionally, SB 329 is the first law in Nevada history to establish a Qualified Electrical Worker (QEW) standard to perform work on any distribution or transmission system for safety and reliability performance obligations. This standard also applies to line clearance tree trimmers who are not employed directly by an electric utility but work under the supervision of an electric utility or the PUCN. Local 396 Assistant Business Manager Jeremy Newman deserves special recognition for his work in advocating for the inclusion of this language.
SB 329 garnered broad bipartisan support in the Nevada State Senate and Assembly. There were zero votes against the bill in the Senate, during committee votes as well as on the Senate Floor. There was also no opposition to the bill in the Assembly committees, and only two votes against it on the Assembly Floor.
"Given the increase in the frequency and severity of wildfires in Nevada and all across the west, this new law is a critical step forward to protect life and property by reducing the potential damage from these catastrophic events," said IBEW 1245 Business Manager Tom Dalzell. "Our members are ready and willing to do the work that's needed to mitigate wildfire risk, and this law provides the means to do it. We applaud the Nevada Legislature, particularly bill sponsor Sen. Chris Brooks, for advancing this bill so quickly. We also commend Gov. Steve Sisolak for signing the measure immediately, sending a clear message that Nevada cannot afford to wait when it comes to reducing the risk of wildfire."