When the CPUC decided to gut the meticulously negotiated Joint Proposal Agreement intended to ensure a safe and equitable decommissioning of the Diablo Canyon Nuclear Power Plant, IBEW 1245 refused to take the decision lying down. Instead, the union opted to pursue a legislative remedy – but in order to pass the legislation needed to restore the original terms of the Joint Proposal, we needed to find state lawmakers who would be willing to go to bat for us.
Enter Assemblymember Jordan Cunningham, a San Luis Obispo native who was elected to the Assembly in 2016. As a Republican, Cunningham wouldn't necessarily be on a union's list of likely bill sponsors. But thanks to the work that IBEW 1245 has done to build relationships with legislators on both sides of the aisle, Asm. Cunningham was more than willing to partner with 1245 and co-sponsor the Diablo Canyon bill with Sen. Bill Monning (D- Central Coast).
In these highly divisive political times, "bipartisan" isn't a word that comes up often, but IBEW 1245 is incredibly proud of our bipartisan achievement we accomplished with the passage of the Diablo Canyon bill, known as SB 1090. And Asm. Cunningham is clearly pleased as well, as he took time out of his busy schedule to share his sentiments with a group of IBEW 1245 shop stewards at their annual training in SLO in late October.
"We got SB 1090 through with just one 'no' vote," he told the stewards proudly. "We got through three committees in the Senate, and the Senate floor, and two committees in the Assembly, and the Assembly floor, with only one 'no' vote through that entire process. And that's a testament to [IBEW 1245's] hard work and ingenuity, Senator Monning's leadership, and maybe a little bit of my leadership … That's how you solve problems in a bipartisan way."
"We had such an awesome coalition. And it gives me such hope for the future," he continued. "It's all about finding alliances and working together to solve problems."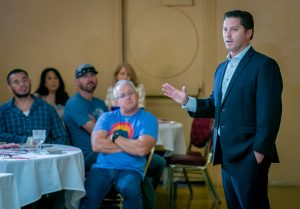 Asm. Cunningham proceeded to engage in a candid discussion with the Local 1245 stewards, answering questions on a wide range of issues, from the economic impact of the closure of Diablo Canyon, to inverse condemnation, to the DMV, to climate change.
On that last topic, Asm. Cunningham wasn't afraid to discuss his views, despite the fact that they do not align with many of the members and leaders of his own party.
"I accept the science of climate change. I have a bachelor's degree in physics. I think that the evidence is piled up and is pretty strong that carbon emissions are contributing to what might be somewhat a natural warming cycle anyway, but I think we're making a contribution to it," he told the stewards. "There were two big bills that attempted to put California ahead of anybody else on climate change. One was the cap and trade extension… and I voted for that. I was one of eight Republicans in the legislature — seven in the Assembly, one in the Senate — to do so. And I thought that the evidence was pretty strong that that program was working pretty effectively. It had been tried, it was successful, and it seemed like the most economically feasible way to do that."
Cunningham is also a staunch advocate for infrastructure investment, which is not always a popular position among the GOP. On building a brighter, bipartisan future for California, Asm. Cunningham had this to say:
"I think the future of California is going to depend on making intelligent investments in our infrastructure. Our population growth, our housing, our energy supply, our transportation network — we have major, major needs and major gaps. And we need to step up and start plugging those gaps. And I think it's going to be a future [with] less R verses D … the defining contours are going to be people who want to build things that human beings need, and people who, for whatever reason, do not."
–Rebecca Band, IBEW 1245 Communications Director
Photos by John Storey