These are, without question, extremely divisive times in American politics, and it seems to be getting worse with each passing day. But despite the polarization that has fractured our great country, IBEW 1245 has been effectively bridging the divide, bringing lawmakers on both sides of the aisle together on the key issues that matter most to our members.
One of Local 1245's greatest allies in this effort is Republican State Senator Anthony Cannella. Now in his eighth and final year as a California state legislator, Sen. Cannella comes from a union family, and is a union member himself, which makes him much more attuned to the needs of working families than most of his colleagues in the legislature.
While Republicans in other states have been making headlines for busting unions, gutting workers' rights and pushing anti-labor policies, Sen. Cannella has stood with organized labor time and again. Most recently, he worked closely with IBEW 1245 to help pass SB 901, the wildfire legislation, building support for the highly contentious bill among his fellow Republicans as well as many Democrats who were initially opposed to the measure.
Cannella credits Local 1245 with the successful passage of that bill, and he said as much when he addressed the union leadership at the quarterly Advisory Council meeting in October.
"I'm telling you that bill would not have passed if it weren't for you guys," Cannella told the Advisory Council. "I'm glad you were engaged, and I'm glad that you're starting to work with reasonable Republicans. I think there are more Republicans now that are looking at what I was able to do… how I was able to work with Labor, and how we're able to get things done."
Cannella acknowledged several of his Republican colleagues — including Assemblymember Jordan Cunningham (R-San Luis Obispo), who co-sponsored Local 1245's Diablo Canyon bill, and Assemblymember Chad Mayes (R-Inland Empire), who spoke passionately in favor of the wildfire bill on the Assembly floor — as examples of how the Local's new endeavor to look past party lines is proving to be highly effective.
IBEW 1245 Business Manager Tom Dalzell chimed in to mention that a substantial percentage of the union's members vote Republican, which is what drove him to work so diligently to find some common ground with GOP lawmakers. He pointed out the work that Senior Assistant Business Manager Bob Dean and Assistant Business Manager Hunter Stern have been doing in Sacramento to develop beneficial relationships with lawmakers who may be viewed as "the opposition" by other unions. As a result, Local 1245 was able to endorse more Republicans this year than ever before, due to their willingness to stand with the union on a substantial number of labor and utility issues.
He then called upon Advisory Council member Michael Patterson, a proud Democrat, to get his take on the union's new bi-partisan initiative.
"I always vote my paycheck," Patterson said, explaining why he's firmly in the Democrat camp due to the party's consistent support of economic policies that help the middle class. "But we do have a lot of members who are Republicans… and if you're on one side of the street, and I'm on the other side, and we're just yelling at each other, we're never going to get anything done."
"It's not about red or blue anymore," added Advisory Council member Ivan Pereda. "If you support our way of life, I'm going to ride or die with you! Let's walk hand in hand."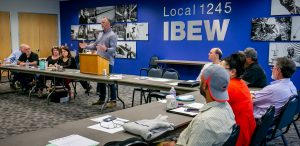 After a respectful discussion, Cannella closed his remarks by noting that there are a number of Republicans who share his same mentality about working with Labor – and there are also some supposedly pro-labor Democrats who are opposed to some of the utility and energy policies that aim to protect our members' livelihoods.
"You can't say 'I'm pro-labor' but then cut off all the work," Cannella stated in reference to these Democrats who seemed willing to let the utility industry implode. "They say they want prevailing wage — but prevailing wage on no work is zero dollars."
As he prepares to leave the Legislature due to the state's term limits, Cannella vowed to continue to help build more productive relationships between the union and his Republican cohort, despite the hostility and polarization coming out of Washington.
"We're the most separated than we've ever been politically. You all watch the news and you know what I mean. It's horrible," he said. "But we know we're going change it together, or at least we're going have conversations. We're going to be in the same room. We're going to talk like civilized human beings… because I think we agree more than we disagree on a lot of things. And hopefully we can get more Republicans to see that a living wage is a good thing. People that have a retirement's a good thing. People that can go to the doctor, that's a good thing. We want people to be able to afford to take care of themselves and their families."
"I truly believe that Republicans should be 100% behind you every time," he added. "I'm happy to be a resource to help make introductions. I think you've make great progress."
–Rebecca Band, IBEW 1245 Communications Director
Photos by John Storey