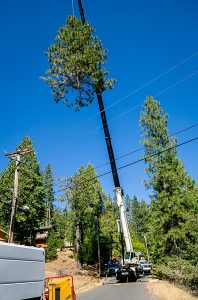 The climate is changing, and our energy infrastructure needs to change with it. That's why IBEW 1245 spearheaded the passage of comprehensive wildfire legislation in California this year, in order to protect our communities, our members, and our state from the devastating effects of the wildfires that we've now come to accept as the "new normal."
The wildfire law, SB 901, which was enacted in September, requires PG&E and other utilities to significantly increase their efforts to harden their systems and make a concerted effort to reduce the risk of wildfires — including more aggressive vegetation management around power lines, with special focus on the areas that are most prone to wildfires.
This fall, PG&E launched a large-scale vegetation management initiative, beginning with "Tier 3" fire zones in areas designated by the CPUC and CalFire to be at extreme risk of wildfire. PG&E has about 7,100 miles of power lines in these Tier 3 zones, and IBEW 1245 line clearance tree trimmers are being tasked with clearing all vegetation within 12-15 feet of those lines on all sides, from ground to sky. Once they've completed the Tier 3 zones, they plan to move on to the 14,000 miles of lines situated in Tier 2 zones, which are classified as "elevated fire risk" areas.
Clearing all of the trees from these areas in advance of the next fire season is a herculean task. PG&E has multiple contractors and sub-contractors working on the project, bringing in thousands of tree trimmers from all over — including many from outside of California — to complete the work safely and efficiently.
According to IBEW 1245 Senior Assistant Business Manager Ralph Armstrong, the union has been working diligently to ensure that all tree contractors and subs on PG&E property are signatory to Local 1245. This means that every tree trimmer involved in the process is covered under a Project Labor Agreement and must be paid prevailing wage rates for their work.
Tall Trees, Grumpy Neighbors
In the quaint Central Valley town of Sonora, situated in the foothills of the Stanislaus National Forest, PG&E set up one of its first vegetation management micro-sites, complete with a fully functioning command center that is not unlike the base camps that were established during the fires. The IBEW 1245 tree trimmers working out of the Sonora camp are employed by a number of different contractors and comes from different backgrounds, but they all share the same mission.
"We're doing fuels reduction, which means we're moving trees that are within the 12-foot marker to help prevent fire damage," explained IBEW 1245 member Tyler Sterns, who works for Arborworks. "We're using a 100-ton crane for picking the trees … We're taking them down in sections, processing them, and getting them out of here."
While the work itself may be familiar for many of the seasoned tree trimmers, the hostility they have experienced from some of the residents in the communities where these large-scale clearance projects are taking place has come as quite a surprise.
"On this particular project, we've actually had protesters going around driving spikes into trees, and threatening the tree crews. There have even been [members] who've had guns pulled on them up here," Sterns said, recounting how he himself was approached by some angry, intoxicated residents who tried to start a physical altercation with him because they weren't too keen on the fact that so many of the trees in their neighborhood had to come down. The situation escalated to a point where the sheriff was called, but fortunately, no one was hurt.
Planning and Communication
Even without the interference from ornery neighbors, the work itself is quite challenging. The crews have to contend with a number of unexpected hazards, such as antennas up in the branches, as well as excessive heat and long 12-hour shifts.
"We start at six in the morning, we have to work until 6:30 at night, and we're working six days a week," said Martin Chapman of Utility Tree Service. "But we do have extensive safety meetings with PG&E in the mornings, and the trees are coming down real smooth. We come up with a good game plan, and we all work together … We want to make the customers happy."
"Everything comes out well if the crew has good communication and we make a plan before we start working," echoed Fernando Perez, who works as a translator for Arborworks. Given the fact that most crews include some individuals to do not speak English as their first language, Perez' role is critical in ensuring that everyone on the job is understands the plan and they are all on the same page.
No Wrong Questions
Working in such unique and trying circumstances elicits a great deal of appreciation and gratitude for all that the union provides for its tree trimmer members throughout the system.
"They're always there for you to answer any questions you have," said four-year IBEW 1245 member Juan Guzman, who works for Davey Tree out of the Scotts Valley base camp near Santa Cruz. "It doesn't matter what kind of question it is, there are no wrong questions. They're always there to try and help you."
"[I value the] job security, and knowing that you have rights and that people can't treat you poorly, or pay you less than what you're classified as," said Sterns.
"The union protects me and my co-workers' safety, which is the most important thing out here," said Chapman. "It also helps for us to make sure we have our rights, as far as decent wages and our medical benefits. Plus I know I'm going to get ice and water every day. And if I don't have it, all I have to do is make a phone call [to the union], and I'll have it."
–Rebecca Band, IBEW 1245 Communications Director
Photos by John Storey