In late June, the life of IBEW 1245 member Tim Gillaspie was cut short far too soon. Gillaspie, who worked as a PG&E Senior Compliance Inspector, was shot and killed while attending a dinner party in Rincon Valley with his family at a friend's house. According to reports, the gunman, armed with two firearms and five homemade explosives, came to the home looking for his estranged wife (who was not there). In an effort to protect his family and friends, Gillaspie heroically attempted to block the gunman at the door, and was subsequently shot and killed.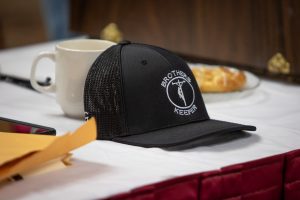 Local 1245 continues to mourn the loss of this brave brother, and has been working to provide support to his family during this difficult time. As part of that effort, the union purchase 100 commemorative "Brother's Keeper" baseball caps, which quickly sold out.
"Every cent from the sale of these hats is going to Tim's family," Assistant Business Manager Bob Gerstle told the Advisory Council.
In addition to the $3,300 raised via hat sales, the union will be sending a modest cash donation to Gillaspie's wife and family.
Those who wish to purchase hats can do so by contacting Sonoma Design Apparel at (707) 578 – 4739