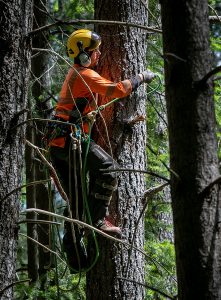 When a large black oak tree near the Rollins Lake reservoir in Colfax, CA snapped and took out some other trees along a 12kv power line, a two-man IBEW 1245 crew from Davey Tree was quickly dispatched to address the issue.
"There's one spar left that's hung up in a tree that we have to remove in order to prevent fires and protect the power lines," explained Tree Trimmer Sean Eylar, a three-year member of IBEW 1245. "It's dangerous because the piece that we're taking down is completely free; it's pretty much just gravity holding it in place. So we have to rig it down, slowly and controlled, for the climber's safety, and also for the power lines."
Eylar removes trees every day at work, but this particular job was a bit out of the ordinary for him.
"We don't usually do a lot of emergency damages like this unless it's bad weather," Eylar said. "Our routine [tree trimming] work is to prevent stuff like this from happening."
The job itself was far from simple, as the crew encountered a number of terrain-related challenges. The tree itself was situated in a heavily wooded area with no vehicle access, so the crew had to hike up a fairly steep hillside in a densely wooded area, carrying all of their tools and equipment with them. When they arrived at the tree, they found that the surrounding area was covered in debris and poison oak, so they had to perform some ground clean-up to ensure the area would be safe for them to work.
After clearing the ground, Eylar and his partner, Josh Gallagher, were finally ready to do the tree work. First, they rigged up the broken tree with a rope to make sure they could control it as it came down. Then Eylar climbed up to cut it loose with his chainsaw, while Gallagher secured Eylar's rig, as well as the rope that held the tree. Finally, they were able to carefully release the broken limb and finish up the task.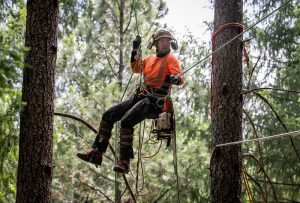 Every component of the job had to be meticulously coordinated to keep everyone safe and ensure that nothing came into contact with the power line, but Eylar and Gallagher handled the work like consummate professionals.
Photos by John Storey