California's current Lieutenant Governor, Gavin Newsom, has a long track record of standing up for IBEW 1245 members, dating back to when he was first elected to the San Francisco Board of Supervisors two decades ago.
As a young Supervisor, Newsom took the controversial position of opposing a measure that would have municipalized the utility in San Francisco. He understood that municipalization would have a negative impact on San Francisco and would be detrimental for the Local 1245 members at PG&E, whose pensions and seniority were on the line.
"Even though the measure had broad support, [Newsom] stood up for our members and opposed it," Dalzell told the Advisory Council during the April meeting. "His position was consistent with the position that Local 1245 has always taken in opposing takeovers. We ended up defeating the measure by less than 500 votes. It's realistic to say that, had it not been for support of Supervisor Newsom, we would have lost that fight."
Newsom made another strong stand for Local 1245 members in 2016, when PG&E was trying to stave off a precipitous shutdown of the Diablo Canyon Power Plant. As one of the three members of the State Lands Commission (the governing body that is responsible for the land that Diablo Canyon sits on), Newsom used his leverage to ensure that the Diablo Canyon workers would be taken care of.
"He said to PG&E, 'I am not going to approve the extension of the lease of state land until Local 1245 comes to me and tells me the Diablo Canyon workers are being treated fairly,'" Dalzell said. "That put a huge amount of pressure on PG&E, and we got a great deal because of it."
Based on his long-standing track record in support of our members, IBEW Local 1245 is proud to endorse Newsom for Governor in 2018. According to Dalzell, Newsom is "as good a friend in political world as 1245 has ever had."
Local 1245 Advisory Council members and guests had the opportunity to hear from Newsom directly and ask him questions at the quarterly meeting in April. After thanking the union and its members for their support, Newsom detailed what he views as the most pressing issue of our time, which he referred to as "the Haves and the Have-Nots."
"We're living in a two-class society, not just in terms of income inequality, but also wealth inequality. The middle class is getting squeezed and it's getting slammed," Newsom explained. "This is the issue … and labor is the solution. Unions have historically fought for the middle class, not just for their members, but for their communities. Everything that's good and right about our country has one thing in common — and that's you, organized labor."
Newsom went on to explain why everyone – not just union members, but also non-members and business owners – should care about the war being waged against unions. He committed to being the type of Governor that will "step up and step in" to preserve and strengthen unions, and restore the middle class.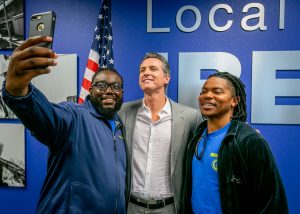 After delivering his remarks, Newsom took the time to answer a few questions from Local 1245 leaders and members, with topics ranging from infrastructure investment to criminal justice reform. His responses were both candid and insightful, and he demonstrated his unique perspective on a number of hot-button topics. Before he left, he made sure to shake hands and take photos with any Local 1245 member who wanted one.
–Rebecca Band, IBEW 1245 Communications Director