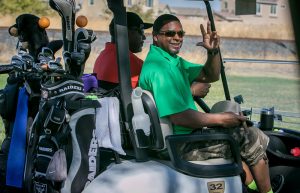 The weather was sunny and clear as 89 golfers hit the links at IBEW 1245's 30th annual Perry Zimmerman Golf Tournament at Cypress Lakes Golf Course in Vacaville.
"The course is beautiful, and the greens are wonderful," said retiree Dale Quedens, who traveled down from Paradise, CA to join the tournament for the first time this year. "Being out here with my buddies, we're having a great time. I love it."
The easy-play, 18-hole event is designed for golfers of all levels, and the "best ball" format elevates the sense of camaraderie within each team.
"The sun is shining, it can't get much better than this," said 12-year IBEW 1245 member Mark Herbert, who happened to have been part of the first place team at last year's tournament. "My game sucks, but fortunately I brought three guys with me who really can play golf, so we're doing alright [as a team]."
While some teams came looking for a trophy, others came out simply to spend time with friends, family and co-workers.
"It's as competitive as you want it to be, but at the very minimum, it's just a fun day," said PG&E Grid Control Center Transmission System Operator Grant Bungo, a nine-year member of Local 1245. "For me, it's a chance to play golf in a really nice venue with friends, and just have a good time and drink some beer. It's a wonderful event."
After they completed the course, the golfers headed over to Weakley Hall for a tasty BBQ, courtesy of Business Rep Mike Saner, who manned the grill. Business Rep John Mendoza's sisters, Molly and Diamond, prepared a delectable spread of side dishes with the help of other volunteers, comprised of Executive Board members, union staffers and their families.
Thanks to our generous sponsors, the raffle was stocked with some fantastic prizes this year, including TVs, GoPro cameras, laptops, fine wines and a selection of golf paraphernalia. The day concluded with the awards ceremony, but even those who left without a prize still had smiles on their faces.
Special thanks to all of our volunteers, as well as our sponsors who made it all possible:
Eagle Level ($500)
IBEW LOCAL 47
INTREN, INC
EVART, YOUNG & HOBBS
WELLINGTON ENERGY
DAVID BRANTLEY, MERRILL LYNCH
WESTERN LINE CONSTRUCTORS CHAPTER
NEYHART, ANDERSON, FLYNN & GROSBOLL
ADAMS BROADWELL JOSEPH & CARDOZA
ENGINEERS & SCIENTISTS OF CALIFORNIA
PAR ELECTRICAL CONTRACTORS Inc.
SF ELECTRICAL CONTRACTORS ASSOCIATION
Birdie ($250)
A2Z TECHNICAL TRANSLATIONS
DELTA DENTAL OF CALIFORNIA
BOXER & GERSON LLP
MIKE SANER –Local 1245 Business Rep
Par ($100)
Underground Construction Co.