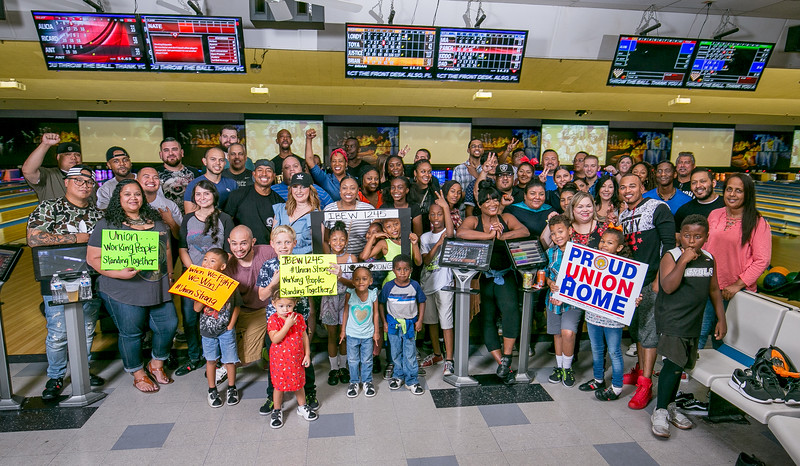 On Saturday October 7, 2017 the Sacramento Regional Organizing Committee held its 6th Annual Charity Bowl. This year's event featured a fun Halloween theme, complete with fun decorations, tasty treats, and a guest appearance by a zombie football player, as well as Rosie the Riveter, played by Organizing Steward Charlotte Stevens.
We had 70 people come to event, and 63 bowlers. We even had some members from PG&E management come out and support our effort. Everyone had a great time bowling and socializing. Organizing Stewards Ivan Pereda, Alvin Dayoan, Ricardo Hernandez and Charlotte Stevens worked the floor to sell last-minute raffle tickets, which sold like hotcakes. We even had a Teamsters retiree by the name of Robert come up to our table and tell us how wonderful it was to see union members raising money for a charity. He bought $5 worth of raffle tickets, and ended up winning an Amazon Firestick!
Other raffle prizes included gift cards to Starbucks, Target and Amazon, a bottle of premium wine, Bluetooth speakers and the biggest prize of the day, a 49′ Flatscreen TV, which went to PG&E training instructor Kirk Dobie from the Sacramento call center. Altogether, we raised $1,200, which we will be splitting between two worthy charities, WEAVE and Unbroken Courage.
WEAVE (Women Escaping a Violent Environment) helps those in domestic violence crisis, and is a phenomenal resource in the Sacramento region. I personally benefited from their services many years ago, and now when I have clothing donations, I take them to the WEAVE store in the Arden area. It feels good to give back to this organization that helped me so much.
Unbroken Courage serves individuals living with Multiple Sclerosis (MS).  They describe themselves "a platform where we can ban together and speak with our mouths and believe in our hearts that we have Multiple Sclerosis, but Multiple Sclerosis does not have us!" Organizing Steward Miko Banks is close friends with the founder of Unbroken Courage, Sharron Baker, who has MS herself.
"It's easy to go through life and ignore the challenges that we face, but Sharron didn't run from her challenge, she dealt with it with a positive influential attitude," said Banks. "She founded Unbroken Courage as stepping stone to give back, even when her own health was taken. Her goal is to show others with this disease that they can live a happy and productive life …  to see the disease as just an obstacle, not a road block. Her motto is, 'Everything worth anything is not going to be easy!  Tears, frustration and misunderstandings are paving the way to pure happiness!'"
I am proud of the hard work that was put in to this year's Charity Bowl, and our team is looking forward to next year's event.
–Nilda Garcia, IBEW 1245 Organizing Steward