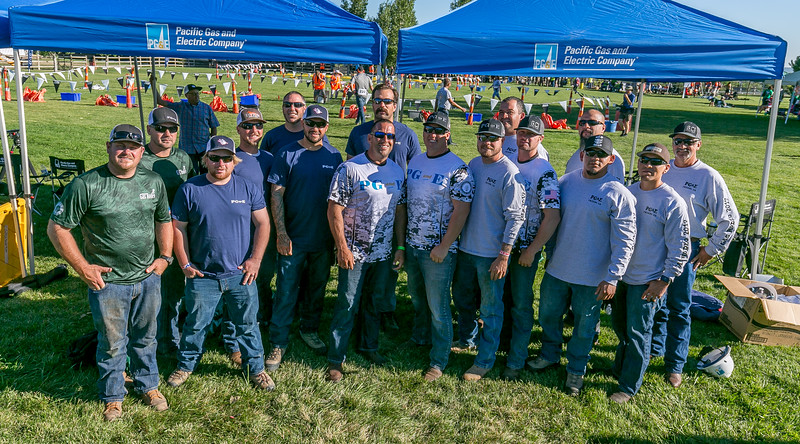 For the second year in a row, IBEW Local 1245 members from PG&E competed in the National Gas Rodeo at the Jefferson Fairgrounds in Denver, Colorado.
Our four PG&E teams were excited and nervous that first morning, but ready to compete. After a stirring rendition of the National Anthem performed by American idol contestant Devon Blake Jones, they hit the dirt for four qualifying events — the Meter Set, Service Install, Pipe Cut and Hand Dig.
Our teams faced a number of challenges during these events, as quite a bit of the material used in competition is not the same as what PG&E uses in the field. The locate wire is braided at this event and does not wrap and stay around the riser in the way that our members are accustomed to. The tapping tool is completely different than the one our guys normally use.  These may seem like small differences; however, in a competition where every second counts, these sorts of minor hurdles can present significant setbacks on the field.
Additionally, many of the teams from other companies have been working on the same crews for years, and it showed with how comfortable they were in every move on the field. Our crews did a great job, but quite of few of the teams they were up against are professional competitors that dedicate a great deal of time and effort into preparing for this event. As I watched a team from another utility complete a pipe cut in under seven seconds, I realized that our teams are going to need a lot more time to practice if they are ever going to compete for the top spots.
Our members certainly would have loved the chance to advance to the Relay round, but it just wasn't in the cards for them this year. However, our guys worked hard, had fun, and made Local 1245 proud. I believe this experience was a great learning opportunity for them, and I look forward to watching and cheering on our members when they compete again next year.
–Lou Mennel, IBEW 1245 Business Rep