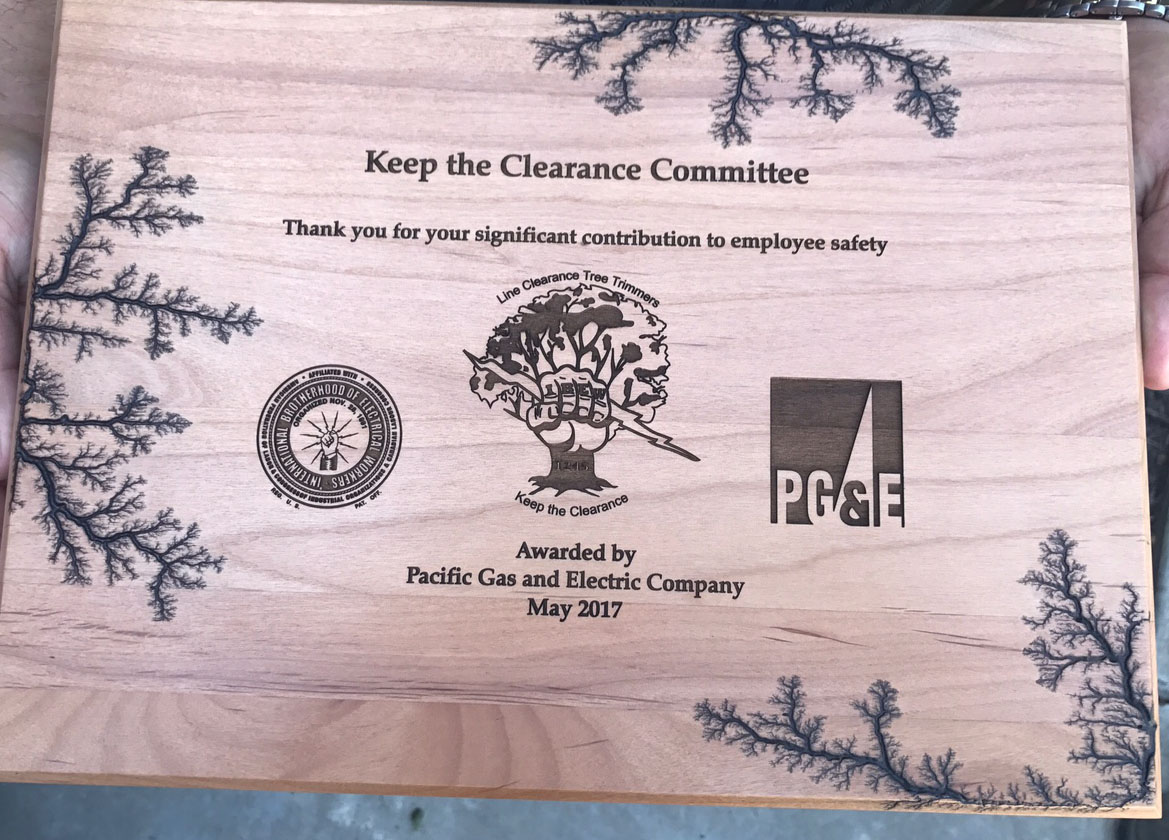 Para el español, desplácese hacia abajo
On May 18, members of the Keep the Clearance peer program attended the PG&E Tree Contractors Safety Forum to receive recognition for the program's work in the field of tree trimmer safety. KTC committee members Carlos Rodriguez, Committee Chair Ray Banfill and Local 1245 Business Representative Rich Lane gave a short presentation to the group of tree contractors and PG&E vegetation management. They talked to the group about how union tree trimmers actively work to monitor the safety of their fellow workers in the field and work cooperatively with utilities and tree companies to change safety culture and promote safe work practices. At the conclusion of the talk, a plaque was presented to the committee by PG&E vegetation manager Joel Smith.
Davey Tree manager Larry Abernathy spoke to the group about how early in the formation of the KTC program, Davey Tree approached the KTC committee and asked them to work with Davey on a close call program. The union agreed to screen close calls so that they could remain anonymous and report close calls back to companies to share with their workforces. Since that time approximately 150 close calls have been received and shared on the IBEW 1245 website or directly back to utilities and tree companies via email.
Another development through Keep the Clearance peer program was the creation of the Tree Supervision Roundtable. Tree company, utility, KTC members and union representatives meet quarterly to discuss accidents, close calls and safety issues that tree trimmers encounter in the field. Guest speakers and company representatives come in to discuss changes in the tree industry, new equipment types, work practices and problems and solutions to safety challenges. From a group of 30-40 regular attendees evolved the Tree Safety Task Group, a pared down sub-committee that works on assignments and issues mid-quarter, and then reports back to the larger group with study findings and recommendations.
In five years of existence the KTC peer program still promotes and practices its core function to reach out to tree trimmers through informational meetings with tree groups in their yards or safety meetings. Companies such as Trees Inc. Davey Tree, Family Tree, and Mowbrays regularly invite KTC to attend safety functions, give presentations and lead discussions related to tree trimmer safety. Currently the Keep the Clearance committee consists of six committee members and 42 safety stewards.
For more information on the Keep the Clearance program, contact Business Reps Rich Lane or Casey Kelley at 209-202-9492, 775-857-9750 or go to //ibew1245.com/keep-the-clearance/
— Rich Lane, IBEW 1245 Business Representative
---
El 18 de mayo, varios miembros del programa entre iguales "Mantenga la distancia" (KTC por sus siglas en inglés), asistieron al Foro de Seguridad de Contratistas de 'Arboles de PG&E para recibir un reconocimiento por la labor del programa en el campo de la seguridad de los podadores de árboles. Los miembros del Comité KTC: Carlos Rodríguez, el presidente del Comité Ray Banfill y el Representante de Negocios del Local 1245 Rich Lane hicieron una breve presentación al grupo de contratistas de árboles y a la gerencia de vegetación de PG&E. Le explicaron al grupo cómo los podadores de árboles del sindicato trabajan activamente para supervisar la seguridad de sus compañeros de trabajo en el campo y trabajan en cooperación con las empresas de servicio público y las compañías de árboles para cambiar la cultura de seguridad y promover prácticas de trabajo seguras. Al final de la charla, el gerente del departamento de vegetación de PG&E, Joel Smith, le entregó una placa de reconocimiento al Comité.
Larry Abernathy, gerente de Davey Tree, habló al grupo sobre cómo en la etapa inicial de la formación del programa KTC, Davey Tree se acercó al comité KTC y les solicitó trabajar con Davey en un programa de accidentes potenciales. El sindicato estuvo de acuerdo en hacer un monitoreo de los accidentes potenciales de manera que pudieran permanecer anónimos, e informar sobre accidentes potenciales a las compañías para compartir la información con sus empleados. Desde ese momento, se han recibido aproximadamente 150 accidentes potenciales que se han compartido en el sitio web del IBEW 1245 o directamente con las empresas de servicio público y las compañías de árboles a través de correos electrónicos.
Otro resultado del programa "Mantenga la distancia" fue la creación de la Mesa Redonda de Supervisión de Árboles. Las compañías de árboles, las empresas de servicio público, miembros del KTC y representantes sindicales se reúnen trimestralmente para discutir los accidentes, los accidentes potenciales y los asuntos de seguridad que los podadores de árboles enfrentan en el campo. Los oradores invitados y representantes de la empresa discuten sobre los cambios en la industria del mantenimiento de árboles, nuevos tipos de equipos, prácticas de trabajo y los problemas y las soluciones a los problemas de seguridad. A partir de un grupo de 30 a 40 asistentes asiduos surgió el grupo de Tareas de Seguridad de Árboles, un sub-comité con un número reducido de personas que trabaja en asignaciones y problemas a mitad del trimestre, y luego informa al grupo principal sobre las conclusiones y recomendaciones del estudio.
En sus cinco años de existencia, el programa entre iguales KTC continúa promoviendo y ejerciendo su función básica de comunicarse con los podadores de árboles mediante reuniones informativas con grupos de podadores de árboles en sus patios o en reuniones de seguridad. Compañías tales como Trees Inc., Davey Tree, Family Tree y Mowbrays invitan regularmente a KTC para asistir a eventos de seguridad, hacer presentaciones y conducir discusiones relacionadas con la seguridad de los podadores de árboles. En la actualidad, el Comité "Mantenga la distancia" consta de seis miembros y 42 delegados de seguridad.
Para obtener más información spbre el programa "Mantenga la distancia", comuníquese con los Representantes de Negocios Rich Lane o Casey Kelley al 209-202-9492, 775-857-9750 o visite //ibew1245.com/keep-the-clearance/
— Rich Lane, Representante de Negocios del IBEW 1245