The IBEW Local 1245 Lompoc Unit and EWMC (Electrical Workers Minority Caucus) teamed up with a local business (DenMat, manufacturer of dental implants) to form a team to raise funds to donate to the 2017 Relay for Life. Relay for Life is the signature fundraiser for the American Cancer Society.  It is held annually and is staffed and coordinated by volunteers in more than 5,200 communities and 27 countries around the world.  Volunteers give of their time and effort because they believe it's time to take action against cancer.
The EWMC held a bbq tri-tip sandwich fundraiser on April 6, 2017. IBEW members Tony Vickery, Alvin Allen and Armando Garcia handling the bbq-ing and set-up and EWMC members Theresa Hernandez and Maria Salazar (also members of IBEW 1245) handed out meals.  This fundraiser alone netted $1,030.00, which was all donated to the American Cancer Society. Our partners at DenMat also hosted two special events, a pizza sale and a breakfast sale, to further boost our fundraising efforts.
The Relay for Life event itself was held at Lompoc High School's Huyck Stadium on May 6-7, 2017.  Lompoc experienced unseasonably high winds and rain on that weekend, yet Theresa Hernandez and her family camped out at the site the entire 24 hours of the event, selling baked goods and raffle tickets for four prize baskets.  Alvin Allen donated a huge pot of homemade chili that helped ward off some of the windchill, and Lompoc EWMC President Maria Salazar did facepainting for kids (and kids at heart!!) on the day of the event.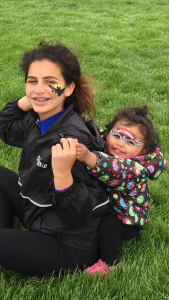 Altogether, our team — which we named "Diversity Heroes" — raised over $2,000 for the American Cancer Society. The Lompoc Relay for Life raised more than $89,000, and donations are still coming in.
Photos by Maria Salazar