After spending five busy days visiting work sites and training centers all across Local 1245's jurisdiction, the delegation from El Salvador's Utility Union, STESEC, capped the week off with a moving presentation at the Local 1245 Advisory Council meeting.
"The struggle for them is real, and it's every day," Local 1245 Business Manager Tom Dalzell said, speaking in both English and Spanish. "In their country, when the government was taken over by the right wing, there were death squads that weren't afraid to go into a church and kill the archbishop, or kill 50 people at his funeral, or kill nuns. Every one of the men here with us was fired under that regime, simply for being unionists, and it took them 10 years to get their jobs back."
Alfredo "Fredy" Lopez of STESEC recounted how, under the right-wing regime, the military stormed into the union's headquarters, arrested the union leaders, and sent them to jail, where they sat without trial for four years. Thanks to international pressure from the US and other countries, the leaders were eventually freed from jail, but were not permitted to return home, and were instead exiled to different countries. The members had to fight for years to bring them back into the country. Thanks to their union activism, El Salvador now has a more progressive, pro-worker government, and they recently succeeded in increasing the country's minimum wage from $150 per month to $250 per month in the rural areas, and from $200 per month up to $300 per month in the cities. However, the companies are resisting the change, and their fight is far from over.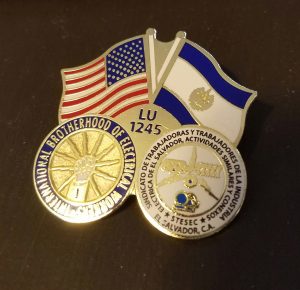 "Our struggle goes beyond our reach as electrical workers," Lopez said in Spanish, while staff organizer Eileen Purcell translated. "We are struggling for women and men who have a longing to be union but simply don't have the conditions. We've succeeded in awakening the enthusiasm and sparking the interest in getting organized. To conclude, the million-dollar question – is it possible to struggle for all? Yes! Si se puede!"
All in attendance were given special pins featuring the flags of both countries, as well as the emblems of both unions, to signify the new sister-union relationship. The delegates proceeded to shake hands with the Advisory Council members and guests, stopping to take photos and share in some bilingual well wishes.