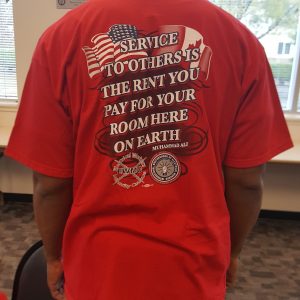 Dozens of Local 1245 members took part in this year's  International Day of Service on Saturday November 19, sponsored by the Electrical Workers Minority Caucus.
The volunteers donned tee-shirts with a powerful message: "Service to others is the rent you pay for your room here on earth," and participated in activities all across Local 1245's jurisdiction.
In Sacramento, IBEW 1245 members and families volunteered at Loaves and Fishes, a facility that provides meals for families in need. Nine volunteers arrived bright and early at 7am, and were tasked with preparing raw defrosted turkeys, including chopping them up, marinating them, and putting them on baking trays so they're ready to go into the oven.
"It was a great event where we got to work together as a team and make a difference in our community," said Local 1245 Organizing Steward Rene Cruz Martinez. "We as members of this great union are making a difference in our communities. Hoping we can get a bigger and better turnout with more members next year."
In Ceres, a small but dedicated team of four Local 1245 members spent the day picking up garbage at a local sports field, leaving it as clean as the day that it opened.
"Luckily we beat the rain, so we were able to get all our hours in," said Local 1245 member Carl Olguin.
In Lompoc, Local 1245 and the Central Coast EWMC chapter pitched in at the Lompoc Food Pantry, helping to stock the shelves in advance of the busy Thanksgiving rush. The team also trimmed the hedges and did some general clean-up and maintenance work.
"The food pantry has been hit with massive staffing cutbacks lately, and they were appreciative of the IBEW group coming in to lend them a hand," said Local 1245 Business Rep Jaime Tinoco.
In Vallejo, the EWMC partnered with Rebuilding Together Solano County to help fix up the Veterans Hall in Vallejo, and in Vacaville, volunteers joined with #HashtagLunchbag to pack up and donate hundreds of bag lunches for those in need. They even took extra time to decorate the bags and write inspiring messages on them.
Many of the union members brought family and friends along to support the effort, and at the end of the day, they were proud of the work that they did to support veterans and others who are in need of assistance.