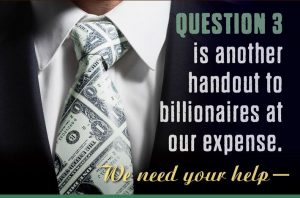 Of all the issues, candidates and ballot questions in this election in Nevada this year, the one that will have the most direct adverse impact on all of us is Ballot Question 3.
If passed, Question 3 would result in the deregulation of the electric energy market in Nevada. This would lead to higher power bills for average working families and the potential for loss of union jobs at our utilities.
It is sponsored by billionaires — including Sheldon Adelson and Elon Musk — whose companies would benefit enormously by exiting the Nevada energy market, while the rest of us will be left to pay more.
Check out our flyer and visit //nohandoutstobillionaires.com/ to sign up for more information. Do not sit this one out!
It is critically important that we do more than just vote 'No.'  We must reach out to friends, neighbors, family members and co-workers and urge them to vote against the measure as well.
Over the next four weeks, IBEW 1245 members, retirees and staff will be contacting ALL Local 1245 members in Nevada via unit meetings, retiree meetings, worksite visits, home visits, phone calls and direct mail. We hope you'll take the time to engage with our folks and learn more about this devastating deregulation proposal.
You can start right away. In addition to personal contacts, we would also welcome  you to participate in neighborhood walks.  These are occurring every Saturday through the election, beginning at 9:00 am at 1819 Hymer Avenue in Sparks. 
For more information, please contact Mike 775-720-8021 or Rita 775-722-2788.