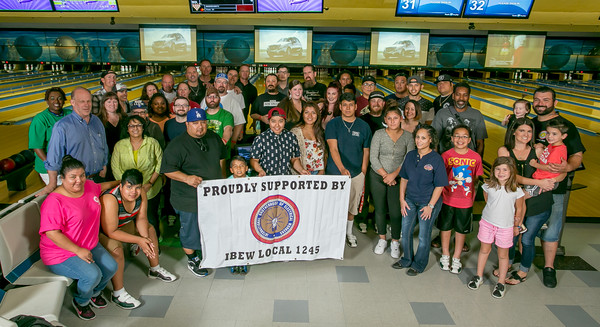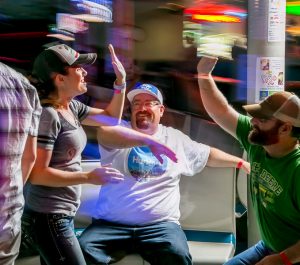 This year's 5th Annual IBEW Sacramento Organizing Committee Charity Bowl was held on April 30 at Country Club Lanes in Sacramento. Families and friends of IBEW 1245 members, as well as members from other unions, joined us for a fun day of bowling, pizza and friendship.  This year, there were two highest-score winning teams!
"Our Charity Bowl had a great turn out!" said Sacramento Regional Organizing Committee Member Alvin Dayoan, who helped to coordinate the event. "We look forward to future endeavors."
We had approximately 65 bowlers in attendance, sold hundreds of raffle tickets, and collected many donations and contributions. Altogether, we raised $2533 for our designated charity, the Hospice of the Foothills organization.
Hospice of the Foothills is a 501(c) (3) non-profit organization dedicated solely to providing hospice and palliative care. The organization is not affiliated with any health care system and devotes 100% of its human, financial and physical resources to serving as the community's most comprehensive source for end-of-life care and information.  Hospice of the Foothills offers community outreach programs to help educate individuals and groups on various topics surrounding end-of-life care considerations, caregiver resources, advance healthcare decision making, and coping with grief and loss.
"The support of those that contributed to this event will touch people's lives and help families who are going through one of the most difficult experiences life may put us through," said Sacramento Regional Organizing Committee member Andrew West.
Other members of the Committee include Local 1245 Organizing Stewards Walter Carmier, Ivan Pereda, Ricardo Hernandez, Nilda Garcia, Lupe Johnson, Lorne Williams and Serena Moss.
–Donchele Soper, Local 1245 Organizing Steward and member of the Sacramento Regional Organizing Committee