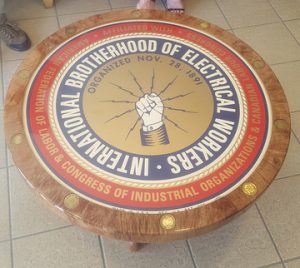 Weakley Hall has a wide selection of unique union memorabilia on display, but nothing compares to the one-of-a-kind coffee table that IBEW Local 1245 retiree Ron Borst recently hand-crafted out of the IBEW old union logo that used to hang over the reception desk.
Local 1245 Business Manager Tom Dalzell came up with the idea to repurpose the seal into a table that would serve as the centerpiece of the union hall's lobby. Dalzell urged Borst, an accomplished woodworker and active union retiree, to take on the project, and Borst readily agreed.
Borst spent three years crafting the table, which he constructed out of ten segments of a Western Big Leaf Maple burl ring. He covered the seal with a piece of plexiglass to protect it, and embedded ten rare IBEW coins (which were presented to apprentices back in the 70s and 80s when they became journeymen) to decorate the edge of the burl. Borst worked closely with former 1245 staffer Ron Cochran to collect the coins — one for each of the ten lightening bolts in the IBEW seal. He also added a few small flecks of turquoise in the table, as an homage to his native state of Nevada. He finished the entire table with a heavy duty epoxy/polyurethane blend to ensure it would remain in good condition for years to come.