İFormidable!  İExcelente! İMagnifico!  İImportante!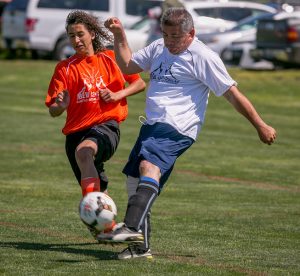 These are just some of the adjectives IBEW 1245 line clearance tree trimmers used to describe the 6th annual soccer tournament that took place on April 30 at Mistlin Sports Center in Ripon, CA.
104 IBEW 1245 members — representing teams from Utility Tree, Trees, Inc., Mario Tree, Wright Trees and Davey Tree Inc. — brought their families to enjoy a day of soccer under clear skies. The kids played their own soccer games, mastered a bean bag toss, and enjoyed breaking open the candy-filled piñata. Everyone feasted on barbecued chicken, rice, beans and salsa.
The brainchild of IBEW 1245 Business Manager Tom Dalzell, the family-oriented soccer tournament has become a tradition that brings members together from across Local 1245's territory. Dalzell opened the tournament by welcoming the players and noting that, much like the farmworkers who built the United Farm Workers (UFW), the tree trimmers of IBEW 1245 "have a union and a cause."
"Tree trimmers have created their own space within 1245 between the master contract, the Keep the Clearance Peer Safety Committee, and the annual soccer tournaments. 1245's tree trimmers have built a strong identity under the banner of "Amistad, Unidad y Solidaridad," said Dalzell.  "It's one of my favorite activities!"
The theme  – "Friendship, Unity, & Solidarity" – was coined by team captains who have assumed a leadership role in building the rosters and making the day a success.
Fresno team captain (Trees Inc) Elfrego Pacheco declared, "This is my fifth year, and my second year as a captain. I enjoy meeting people from difference companies.  Every year we meet someone new!"
Felipe Campiz, also from Fresno, added, "This is valuable not only because it unites us, but because our kids get involved and see the union in action."  Martin Macias (Fresno) chimed in, "It's a good time for the family.  It builds unity, which in turn gives us a stronger voice, rights."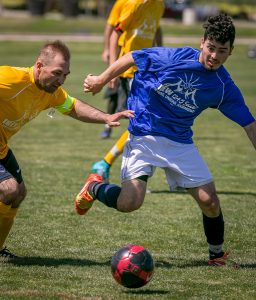 Business Representative Abel Sanchez couldn't agree more. "It's a good time," said Sanchez. "It allows people from different areas to talk to each other."
"It's a celebration and a recognition of tree trimmers at IBEW 1245, and all are welcome," Business Representative Carl Lamers added, noting that the event has gotten bigger and more popular over the years. "It's grown from eight teams, to sixteen teams — eight in Ripon, and eight in Fairfield."
"It is great that we come together as a union, that we bring our families together from all of the companies and get to know each other.  The union is the reason we have excellent benefits, better wages," declared 1245 member Francisco Figuroa (Synergy), "It's a great day, and we are grateful to Tom and all of you for giving us the opportunity."
Congrats to the top two teams, hailing from Stockton/Angels Camp (Trees Inc) and Sacramento (Wright Trees).
Eileen Purcell is IBEW 1245 Staff Organizer. Photos by John Storey.