Work Outlook
Work picture continues to be steady and is expected to remain so through 2016.  In addition to the work that has been contracted out through the utilities in our jurisdiction, we are also seeing additional projects — including large solar, Caltrain electrification, high speed rail and the trailer park modification pilot project — which all should provide good jobs for our members for the next several years. In addition to the construction work, we also have members performing inspection services, locating and support service work throughout the jurisdiction.
Since January 2014, Local 1245 has conducted 5,715 Safety Orientations.  These orientations, done in conjunction with Code of Excellence training, have helped to educate the workforce on what's at stake for not working safe by explaining the consequences. All members are required to complete the orientation in order to take a job through dispatch.
Our two OSL reps in the field have visited a total of 69 jobsites and have logged approximately 6,000 miles in the last month alone.
Inspection Contractor
Canus Corporation is no longer performing gas inspection work for PG&E. This change took place at the end of March, and had an impact on close to 200 IBEW 1245 members who were moved to other contractors that are still performing the same work.  Although we expected a smooth transition for these members, it didn't go without some issues, which we continue to work through.  All the agreements are identical, however some of the processes and types of work are slightly different.  We will continue to work with the members and the contractors to resolve any and all issues that may arise.
Grievances
As we have reported in the past, the Local 1245 Outside Line staff receives frequent calls and discovers numerous issues on a weekly basis related to violations of the agreement.  For the most part we are successful in getting these issues resolved in various stages of the grievance process, with most being done in the first step.
However, there are a couple of ongoing grievances that are in the first step and discovery process, one of which has a more widespread impact and involves some potential back pay to several members.  We feel confident that this issue can and will be resolved in the first couple steps of the process.
Safety Books (Update)
As we wait to see the final documents from CalOSHA on mandatory changes to both the High Voltage and Low Voltage safety orders, the joint IBEW / NECA Safety committee has begun the process of starting the review of the Safety Red Book. There is a lot of work to do to get this up to the current FedOSHA changes, however seeing the document from CalOSHA will be key to make sure this Safety Manual is current with the state requirements.  We are out of the latest edition and have no plans to print any more due to the pending changes.  If anyone needs a current copy, it is available for download on our website at www.ibew1245.com/outside-line-safety-manual/.
OSL Safety Oversight
Recently, OSL crews have experienced more contractor safety oversight, such as crew audits, and a stronger than usual push from PG&E and their inspectors.  There are a lot of factors at play, and PG&E states that they have been mandated by the PUC for stronger contractor oversight.  We know that PG&E is working on a plan on what this is supposed to look like, and we will be working with PG&E to find out what the parameters are while also trying to understand the mandate a little better.  More to come on this as it becomes available.
Update Personal information
This is just another reminder for all IBEW 1245 members to make sure all of their personal information is up to date.  If a member has changed their place of residence or has had a change in marital status, it is important to have that information updated in our system.  There is a lot of important material that is mailed to our members' residences which they may not receive if their contact information is not kept current.
Beneficiary information that is not updated following a change in marital status can lead to hardships for a member's loved ones. Funds will be given to whoever was named as the beneficiary, and benefits could end up in the hands of the wrong person based on old information that was provided years prior.  We have seen this happen before, and have no way of reversing these disbursements. Members may ask the OSL rep for a 'Change of Beneficiary' card, or call the union office for one if needed.
JATC
On February 29, the California-Nevada JATC opened the apprenticeship application process for a 10-day period.  During this period, they received over 1,600 requests for applications. Approximately 1,300 applications were returned and will be evaluated, and scheduling is underway for interviews.  Due to the large number of applications, we anticipate the interview process to go on throughout the rest of the year. The first round of interviews is scheduled for May 17 and 18.
We currently have 330 outside line apprentices registered in our JATC program and one traveling apprentice in our jurisdiction.
42 Apprentices are working out of local 1245
248 are working out of 47
4 are working out of 396
11 are unemployed (37 are technically unemployed, but 26 can't work)
We have graduated 11 apprentices to journeyman lineman
We have indentured 0 outside line apprentices
We currently have an orientation/climbing class in progress with 20 individuals attending, and anticipate all will pass the class.
OSL Shop Steward Training
On March 26, Local 1245 held a shop steward training session, which also included some labor and IBEW 1245 history and structure. Although we had hoped for a larger turnout, we feel it was a success. Based on the feedback from the members who did attend, they all came away with some valuable information.
Organizing
In the month of April we signed Sturgeon Electric California, LLC to the Outside Line Construction Agreement.
We have met with K.W. Emerson, Inc who may sign the Hydro agreement.  We also met with ArborWorks, to discuss signing the master Line Clearance Tree Trimming agreement.
Dispatch Call Counts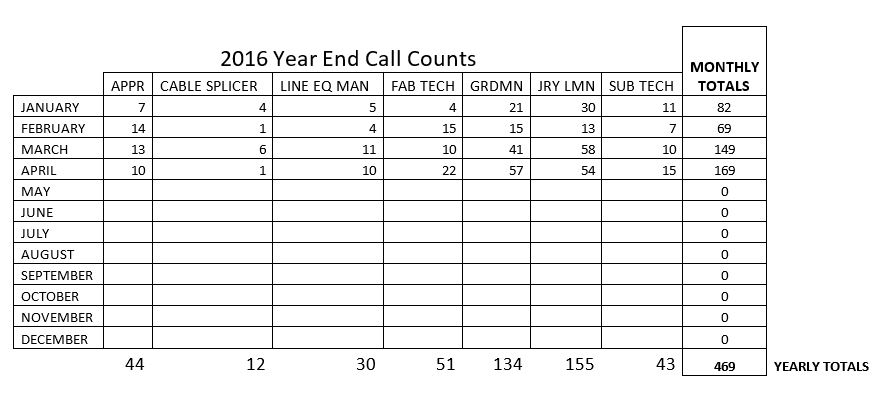 2016 TRAINING SCHEDULE & SPECIAL EVENTS
LAWDP Rodeo – April 30, 2016, Los Angeles
Soccer Tournament – April 30, 2016, Ripon
Soccer Tournament – May 14, 2016, Fairfield
NSUJL Benefit Rodeo – June 17, 2016, Clearfield County, PA
IBEW 1245 Golf Tournament – October 8, 2016, Vacaville
International Lineman's Rodeo – October 15, 2016, Bonner Springs, KS
First Aid & CPR is the 2nd Saturday of every month at the JATC Riverside and Sacramento facilities.