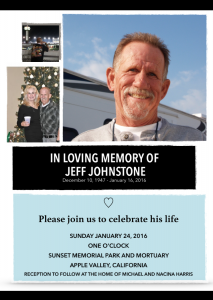 We regret to announce that longtime IBEW Local 1245 member and former Business Rep Jeff Johnstone passed away at the age of 68.
Brother Johnstone was initiated into the IBEW in 1968. He worked for several Local 1245-represented Outside Line contractors during the 90s before joining the Local 1245 union staff as an Outside Line Rep in the Riverside office (prior to Local 47 assuming the representation of the southern part of the state).
"He was a great worker, intelligent, and a good union man," recalled Local 1245 Rep Mark Rolow.
"He worked long and hard, and fought for every one of the members he represented. He was always upbeat, and always had my back," said Local 1245 Dispatcher Gina Britt. "He was a good guy, and a great role model of what a union brother should be. He was such a good boss and friend, and I was very sad to hear [of his passing]."
"When I was a brand new rep, Jeff took me under his wing as though I was son. He taught me the ropes," said former Business Rep. Roy Duncan. "He was a great guy, and if he had any enemies, I don't know who they were. He was always welcome in every yard we went to visit, and always he always did the best he could for the members."
Johnstone became sick with throat cancer in 2012, but all who knew him during that time were amazed at his commitment and design to keep fighting.
"His spirit was incredible," said former Local 1245 staffer Corrine Jo Mascarenas. "Instead of being bitter and angry about the things that he could not do anymore, he joyfully embraced what he still could do."
"Everyone thought the world of him," said former 1245 staffer Rich Duncan, who had met Johnstone on a project in Lancaster in 1986 and served as his supervisor for several years. "He ran a pretty good job, and everyone wanted him as a foreman."
"Jeff was a true blue unionist.  He had a sharp sense of humor and knew the line construction industry and world as well as anyone," said IBEW 1245 Business Manager Tom Dalzell. "He made me laugh and made me proud."
Brother Johnstone's memorial service is scheduled for Sunday, Jan. 24 at 1pm at Sunset Memorial Park in Apple Valley.