In what has now become an annual tradition, dozens of IBEW 1245 members and their families spent the Veterans Day holiday representing the union at annual parades in Sacramento and Fresno. Both contingents were organized by members of the IBEW 1245 Veterans Group, with strong support from Organizing Stewards.
In Sacramento, the Local 1245 contingent passed out candy and union bumper stickers to spectators along the parade route, which passed directly by the State Capitol building. Many of the union members who marched were veterans themselves, and several donned their military uniforms.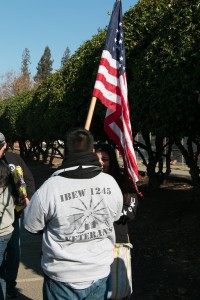 "It gives me a sense of honor, wearing the Army uniform and being a part of a strong union," said IBEW 1245 member Rupert Espinosa, a veteran and current Army reservist, adding that he's "thankful to be part of the parade and able to shake the hand of every Veteran out there."
"Deciding to add our young Veterans in uniform was huge," noted Navy veteran Pam Pendleton, a member of the Local 1245 Veterans Group who helped coordinate the contingent. "Looking at the faces of our disabled Veterans along the parade route as our young men and women rushed out of ranks to shake hands and salute them, saying 'Thank you for your service," helped me remember why I've made this commitment."
Veterans Group member Walter Carmier, who also worked to organize the contingent, called the experience "priceless."
"We were honored to be honored," said Carmier, who served in the military for 21 years. "If you weren't there, you missed one of the best days of the year."
"It was great. I only wished more of our brother and sister veterans could have experienced it with me," said IBEW 1245 member and PG&E Operating Clerk Joseph Goodwin, who is already planning on using his military training and union organizing skills to increase next year's participation.
In Fresno, IBEW 1245 partnered with PG&E this year to celebrate and honor veterans within the Power Pathways Program and veterans everywhere. 53 members, including seven veterans from the PowerPathways clerical training program, along with several PG&E employees and their families, joined the contingent to honor those that have served and sacrificed.
"Recognizing the statement, 'Freedom isn't free,' we respect their sacrifices and work in solidarity to ensure that these veterans get the respect and care they deserve coming back to civilian life," said Organizing Steward PJ Saenz, who helped coordinate the Local 1245 contingent at the Fresno parade. "We must not only praise their sacrifices as they enter service, but we must take the opportunity on more than just Veterans Day to show them our solemn gratitude and profound respect for all they have given on behalf of a grateful nation."
Kevin Krummes and Joe Sanchez also contributed to this report.