WORK OUTLOOK
Work remains steady for this time of the year with not much change from last month.  January's numbers for PG&E show that there are currently 70 crews working on distribution projects; 46 are on electric projects and 24 are performing civil work.  Transmission has several projects slated to go to bid. Substation projects and security upgrades are being performed, which is typical at this time of year due to outage availability.
Work in Nevada has been fairly good as of late, with contractors including Summit Line, Wasatch, Titan, Black and McDonald and Christianson all performing projects of various sizes and duration there.
Since the 2nd of February, Outside Line Rep Richard Ingle has logged over 5,000 miles visiting 52 job sites. While performing crew visits in Nevada, Richard picked up outdated fall protection and FR Clothing to be donated to Brady Hansen's "Recycling for Lineman" project, where they will be sent to linemen in Suriname and other countries. These items are no longer allowed in the states due to regulatory requirements, but they would represent a significant upgrade for linemen working in developing countries.
We have settled some issues of members not paying dues.  We found a contractor that was working in our jurisdiction with a crew that was dispatched through Local 47 without notifying us, though we are not sure if this was an error of commission or omission on the part of the contractor.
CALTRAIN PROJECT
The CalTrain project is a small portion of California's large-scale high speed rail project which our members will benefit from for years to come. The first phase of the project is to electrify a 54-mile stretch of the CalTrain line from San Francisco to San Jose and extend the current train service through the peninsula. The RFP should be out soon and work is underway to secure a project letter agreement for this portion of the project that will provide work for our members through at least 2020.   However, many of the design details are still unclear. The actual number of structures and substations haven't been finalized, nor has the work schedule (a lot of this work will require a schedule outside of the norm to accommodate the operational needs of the current train schedule). More to come.
CODE OF EXCELLENCE TRAINING
As of February 28, we have conducted 3,000 "Code of Excellence"orientations to members as they sign or are referred to jobsites. The goal of these trainings is to expand safety awareness in our jurisdiction.
JATC
Apprentice interviews were conducted on February 25 and 26,  at which time 160 candidates were interviewed.  Additional interviews are scheduled for April 1 and 2 of this year.  All of the applicants being interviewed are from last year's open application period, which was open for only 10 days last September.  The sheer number of applications that were received during the 10-day opening period shows that times have changed with a marked increase in the number of people interested in becoming linemen.  Of the 160 candidates that were interviewed this past month, about 95% of them had attended a line school and several of them have been working in the industry somewhere.  Competition is steep for these apprentice positions.
We currently have 336 outside line apprentices registered in our JATC program.  We have 3 traveling apprentice in our jurisdiction as well.
59 apprentices are working out of local 1245
245 are working out of 47
5 are working out of 396
13 are unemployed (30 are technically unemployed, but 17 can't work)
13 apprentices have graduated to journeyman lineman
Zero outside line apprentices have been indentured in 2015
The JATC is offering a crane certifying course and written test.  Anyone interested can find out more information about the class on their website under Trade classes.
BARGAINING
We have made contact with 40 contractors whose agreements with Local 1245 are set to expire on May 31, 2015.  We have proposed to extend these agreements for a period of two years with wage increases only.  Over the next few months we will be out in the field talking with the affected membership and having on-site voting when possible.
ORGANIZING
In the month of February we signed the following contractors:
CA Outside Line Construction Agreement
Tau Delta Industries, Inc
High Country Line Construction, Inc
Line Clearance Tree Trimming Agreement
Pacific Coast Tree Experts
INJURED WORKERS FUND
As of January 30, the balance of the fund was $762,109.51.  No disability or death benefit claims were paid out in the months of January or February.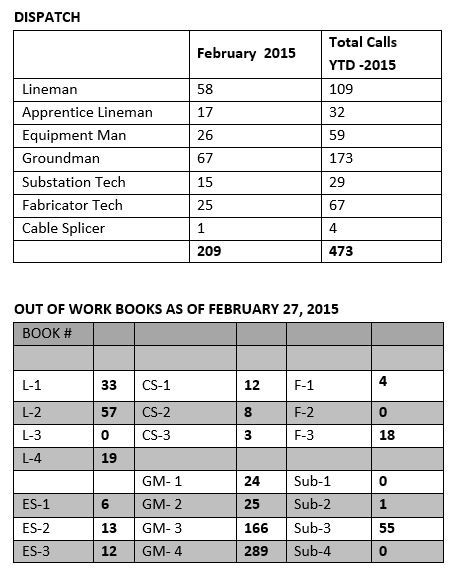 2015 TRAINING SCHEDULE & SPECIAL EVENTS
First Aid & CPR is the 2

nd 

Saturday of every month at JATC Riverside and Sacramento facility.
IBEW Nor-Cal Clay Shoot – March 28 at two locations: Dunnigan and Hilmar
Soccer Tournament (south) April 18 – Ripon, CA
Soccer Tournament (north) May 9 – Fairfield, CA