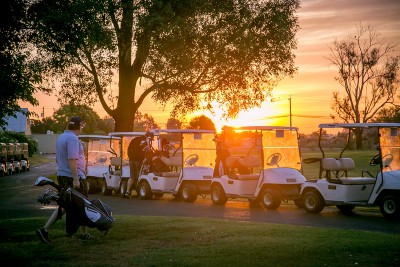 The sun was just peeking over the horizon as 73 golfers teed off at the 27th Annual Perry Zimmerman Golf Tournament, hosted by IBEW 1245 Business Manager Tom Dalzell. The easy-play, 18-hole event is an activity that both experienced and novice golfers can enjoy, and the flawless weather and great company ensured it was a fun-filled day for all.
"It's just beautiful. We love golf, and we love coming out here," said PG&E System Operator Matthew Woleslagle, who participated in the event for the third year in a row with some of his colleagues from work. "It's time for us to get away from the concrete jungle and have fun, relax and spend some time together."
For many IBEW 1245 members, the occasion was also a chance to spend quality time with not just their union family, but also their actual family. IBEW 1245 retirees April and Richard Carlson got to spend the day on the course with their two sons, Todd and Travis, both of whom are also 1245 members and currently work at PG&E. Mrs. Carlson said the event was "wonderful," and there was no doubt she enjoyed herself, laughing as her sons and husband got a little silly on the 1st hole.
PG&E Gas Service Rep Matt Andreoli played with his brother-in-law and a friend from work. "You get to enjoy the day with a bunch of other IBEW members. It's really nice to get out here and see that we're all just one union," Andreoli said.
The "best ball" format of the event allowed each of the 21 teams to play a non-competitive round of golf so each player left feeling like a winner. To add to the uplifting spirit of the day, the course included five "prize holes" with gifts ranging from bottles of wine to golf clubs to gift cards and extra raffle tickets.
Those raffle tickets ended up being some of the most coveted giveaways on the course. The raffle featured some top-notch prizes, and a handful of lucky participants walked away with some exciting gifts including a flat screen TV, an iPad, a turkey deep-fryer and a customized IBEW golf bag.
The raffle, along with a Texas-style BBQ and awards ceremony all took place at Weakley Hall immediately following the tournament. After the scores were tabulated, the winners were announced. The first place team was Andy Tow, Ian Robinson, Chris Hess and Doug King. The second place team was Ezzard Carney, Terry Carney, Eric Wright, and Pernall Wilson, and third place team was Art Estrada, Dave Tucker, Marshall Snow and Terry Estrada.
The second place team of, (left to right), Ezzard Carney, Terry Carney, Eric Wright, and Pernall Wilson
The event couldn't have happened without generous support from our sponsors:
Neyhart, Anderson, Flynn and Grosboll
Merrill Lynch
IBEW local 47
Evart, Young and Hobbs
ESC local 20
Adams Broadwell Joseph & Cardoza
Wellington Energy
PAR Electrical Contractors
Western Line Constructors
Hanson McClain Advisors
Delta Dental
Boxer & Gerson
IBEW 1245 Business Rep Mike Saner
Black & Veatch
A2Z Printing
Tormey's Catering
Tom Dalzell and the IBEW 1245 Executive Board
Photos by John Storey. If you would like to receive a high-resolution electronic version of your photo, email rgb1@ibew1245.com.