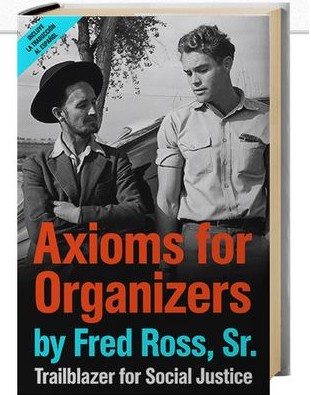 Fred Ross, Sr. — one of the most consequential organizers of the 20th century — dedicated his life to the struggle for economic, racial and social justice. His life's work remains an inspiration to organizers and leaders and this Fall, he will be inducted into the California Hall of Fame. He is a reminder of the countless unsung heroes who have fought and continue to fight for the common good and the best of our democratic tradition.
Last week, his son, IBEW 1245 organizer Fred Ross Jr, announced the release of "Axioms for Organizers by Fred Ross, Sr., Trailblazer for Social Justice" in e-Book format, available through all major e-Book stores. This bilingual (English-Spanish) collection of his father's axioms serves as a valuable tool to train the next generation of community and labor organizers.
The accolades are already pouring in. Former Labor Secretary Robert Reich endorsed Axioms for Organizers as a "must read" on social media. Peter Dreier posted a glowing review in The American Prospect and Gustavo Arellano wrote a story in the OC Weekly. Within the first five days, Axioms for Organizers hit the best-seller list on Amazon.com in both the "Labor & Industrial Relations" and "Practical Politics book categories.'
Download your own copy of the e-Book here. If you are interested in purchasing bulk quantities of this e-Book, email fredross47@gmail.com. Proceeds from the sale of this e-Book will go back to various social justice organizations.
Learn more at //www.fredrosssr.com/.