Article by Rebecca Band
Photos by John Storey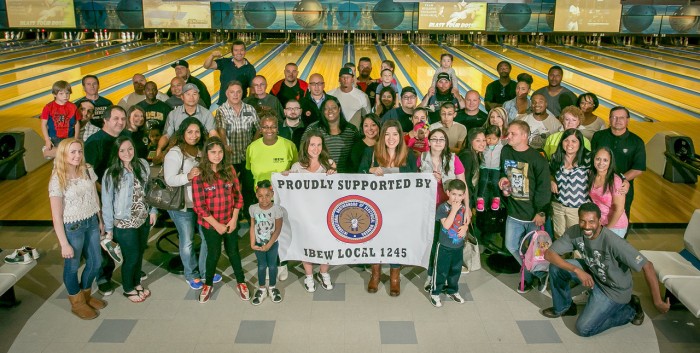 There's nothing quite like knocking down some pins and knocking back some beers with friends and family at a bowling alley on a Saturday afternoon. Tie in some charity, organizing and a whole lot of solidarity, and you've got the IBEW 1245 Sacramento Regional Charity Bowl.
IBEW 1245 members from a wide range of employers, including SMUD, PG&E, Frontier, Trees Inc, Sunoptics and NV Energy, came out to Country Club Lanes in Sacramento on April 26. According to IBEW 1245 Organizer Jen Gray, who helped launch this annual event three years ago, the Charity Bowl is intended to be "multi-pronged" – combining a social activity with a charity effort while at the same time bridging the gap between members at different worksites and employers.
"I came out of PG&E, and that was all I'd ever known," said Gray. "Now, with this multi-employer event, we're building relationships and having friendships with folks you may never have known otherwise. But now through IBEW 1245, you have that connection."
Organizing Steward Rosario Garcia, a line clearance tree trimmer from Manteca, was excited to have some union-sponsored "family time," so he brought his young son along with him to the bowling alley.
"A lot of times I'm away [from my family] for union business … This is the first time I've gotten to bring my son to a union event so he can see what I'm involved in [and so he understands] why daddy's always gone," Garcia said. "And also, it's great to support this good charity; that's so important. It's just another reason to come out and support 1245."
All of the proceeds from this year's Charity Bowl will go directly to Sacramento Loaves and Fishes, a local organization that feeds the hungry, shelters the homeless and provides a wealth of other essential survival services. The founder of the charity organization also has ties to the labor movement, and in fact knew IBEW 1245 Business Manager Tom Dalzell decades ago when Dalzell was active with the Farm Workers movement.
The Charity Bowl is hosted by IBEW 1245, but it's truly become a community-wide event, and it's grown by nearly 30% since last year. Members from nearby IBEW Locals 340 and 2376 were in attendance, and several labor activists from the Sacramento community also came out to support the cause.
Barbara Collins, a well-known activist with the OUR Walmart campaign, heard about the Charity Bowl on Facebook from IBEW 1245 organizer Jammi Juarez, and decided to join in. Barbara and Jammi first met last summer, when IBEW 1245 dispatched members on a solidarity mission to join OUR Walmart's "Ride for Respect" to Bentonville AK (home of Walmart headquarters).
"IBEW 1245 did an awesome job on our Summer for Respect last year. [The activists who worked on the Walmart campaign] really kicked butt," Barbara said. "They're an inspiration to me, and so I try to stay connected to 1245." Barbara also noted that this was the first union-sponsored charity event that she'd attended, indicating that 1245 goes above and beyond to help others in need, whether they're on the picket line or the soup line.
Never one to miss out on a chance to support the local labor movement, Sacramento City Council candidate Ali Cooper stopped by the bowling alley, and IBEW 1245's organizing stewards took advantage of the opportunity to encourage bowlers to sign up and volunteer with Cooper's campaign. Local school board candidate Anna Molander also came out with her daughter to join the fun.
And indeed, it was a fun-filled afternoon. Returning champs from last year's charity bowl, Tom Embry, Rupert Espinosa, Sabrina Woodford and Rick Nguyen from PG&E West Sacramento RMC, once again took home the winner's trophies. Rick won best individual bowler as well.
The Charity Bowl also featured a raffle with all sorts of donated prizes, and of course all the proceeds from the raffle tickets went to Loaves and Fishes as well. Taking home the biggest prizes were Rhonda Reynolds of PG&E West Sacramento RMC, who won the 32-inch LED television, Mark Devoll from Frontier Communications in Elk Grove, who walked away with a new beach cruiser bicycle, and Veronica De Luna from the PG&E Sacramento Call Center, who won a Samsung tablet.
Organizing Steward Walter Carmier of Frontier helped to coordinate the raffle and collect donations. "We sold over 400 tickets, and people were really excited to donate. Some people, when you'd tell them about the charity, they'd say, 'No, I don't want the raffle ticket, I just want to donate.' I've been overwhelmed with the amount of support and people wanting to help out."
At the end of the day, the Charity Bowl raised more than $2800 for Loaves and Fishes, exceeding last year's donation and the goal they set for themselves this year. The organizing team plans to set an even higher goal for next year.
Learn more and contribute to Sacramento Loaves and Fishes //www.sacloaves.org/.