Here is the latest update from IBEW 1245 Organizing Stewards Rene Cruz-Martinez, Erika Barron, Carl Olguin and Nilda Garcia, who are on the Teamster organizing drive at Taylor Farms in Tracy, CA.
The union busters have continued to pound employees with misinformation and are quite aggressive. The recent company ploy has been to advise employees that they want to build an employee association, and to give the company another chance.
Many employees are being confronted by "Vote No" employees when they are speaking to Teamster organizers/ supporters. They come out in groups and continuously clap and chant, telling co-workers that the union is only concerned with dues and taking what little money they have. The "NO" side has made false accusations that a worker had been punched in the face by a Teamster and numerous other lies, including the threat of a plant closure and their immigration status.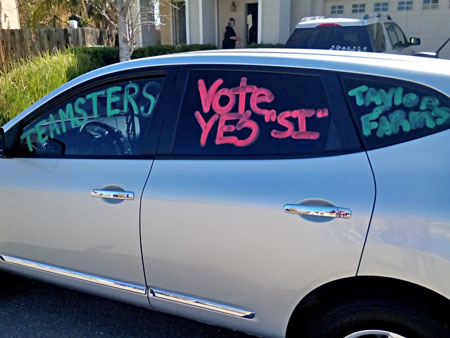 The IBEW 1245 crew has been assisting with regular visits to the plant to hand out leaflets and also regular house visits in the outlying areas, including Stockton, Lodi, Patterson, and Ripon. During the house visits they have continued to educate, debunk and spread the word of what the union stands for, true unity.
Cruz-Martinez said the campaign is a reminder that young people need labor education—since many of the "Vote No" supporters are of younger age and are clearly misinformed.