DAY NINE: More rallies, picketing in support of teachers
IBEW 1245 members on frontlines
IBEW 1245 Organizing Stewards Kristen Rasmussen and Michael Musgrove continued with the 5:30 a.m. picket in front of the hotel.
The school picketed today was the 10th school in the district. The IBEW 1245 team got to visit all of the schools.
There were three rallies today:
9:00 – 11:00 a.m.: 600 teachers protested on Bear Creek bridge
Noon – 1:00 p.m.: 600 teachers protested in front of City Hall; news and media coverage
1:00 – 3:00 p.m.: 600 teachers protested in a main intersection in Medford; news and media coverage
The picket captains were given two golden tickets to give to two people; the chosen people attended the City Council meeting. They had three teachers speak during the meeting and gained support from the Council. Outside the meeting the teachers picketed, sang, chanted, played music, and danced.
The IBEW 1245 team reported that having all of the teachers together—rather than having a few scattered at each school—gave the teachers the morale boost they really needed. The feeling of solidarity they experienced reminded them why they are doing what they're doing. Because of the successful day of unity they had, they decided at the captains' meeting tonight that they will hold a community action with all the teachers twice a week. It sends a stronger message to the public when they are all standing together.
The Bargaining Committee is committed to stay overnight tonight. This is the coverage from KDRV.
The IBEW 1245 team will participate in their last picket tomorrow morning at 5:30 in front of their hotel, then they are going to help John Hutter set up a Facebook page for Local 659.
Here are some links to the media coverage:
//www.kdrv.com/parents-speak-up-as-bargaining-continues/
//m.ktvl.com/article?id=2647566&categoryid=325&election&provider
//www.kdrv.com/picketers-continue-across-medford/
Jammi Juarez, IBEW 1245 Organizer
DAY EIGHT:
IBEW 1245 Organizing Stewards Kristen Rasmussen and Michael Musgrove organized a picket in front of their hotel at 5:30 a.m. The picket line was joined by 10 teachers, including a retired teacher. Scabs staying at the hotel did not complain or interact.
From there the IBEW 1245 team went to picket at a school.
They met up with Oregon Education Association organizers, Bruce and Jim, at the strike headquarters. Kristen worked with Bruce to prepare for a community rally that night. Kristen MC'd the event. I was told she did an amazing job! They had roughly 200+ Parents/Community supporters and 300+ teachers. The Board did not show. As the invited speakers addressed the community, the teachers picketed.
Mike and Jim focused on getting ready for a City Hall rally. They worked on coordinating parking for the teachers and the lay out of the protest.
Mike and Kristen reported at the nightly Captains' Meeting.
The Bargaining Committee stayed at the table until midnight, meeting for 14 hours. When they reported at 8:30 p.m. they said it was positive and there was some movement.
Jammi Juarez, IBEW 1245 Organizer
DAY FOUR: Other unions, including IBEW 1245, rally in support of teachers
[youtube //www.youtube.com/watch?v=JPWpz5GTnac]
DAY THREE: Striking teachers confront scabs
IBEW 1245 organizing stewards in the thick of it
IBEW 1245 Organizing Stewards Kristen Rasmussen and Michael Musgrove were at strike headquarters at 10 a.m. Saturday morning, helping prepare for the 2:00 p.m. rally.
Rasmussen and Musgrove are in Medford, Oregon in support of striking teachers.
IBEW 1245 Organizer Jammi Juarez, who has been in touch with Rasmussen and Musgrove, reports on their Feb. 14 activities:
At 6:00, they were meeting in the lobby to go join the strikers. They discovered that the scab teachers were all staying in the same hotel! So they decided to grab their "IBEW Support Medford Teachers" signs and stand in front of the doors.

They got video of the scabs exiting the lobby and getting in the four buses that were lined up ready to take them to the schools. One of the bus drivers called (hotel) security. The security officer said Mike and Kristen were guests of the hotel and we're not being confrontational and let them continue standing there. Some of the scabs covered their faces and asked not to be videoed.

The scabs all got on the buses and left with their police escort (the police have been escorting them every day).

The (IBEW 1245) team stayed with the strikers all day. It was pouring all day. John Hutter, an IBEW Local 659 organizer, also picketed with them.

Last night there was an "All hands meeting" for the teachers to update them on how the negotiations are going. Every teacher attended (600 teachers). There has been no progress. The committee offered to continue (negotiating) through the weekend and holiday, the School Board said no. They will start back on Tuesday. Mike and Kristen went back to the business community to hang flyers and drum up support. They say they expect 300 to 400 people today at the rally. However, it's expected to be raining.
DAY 2: Family affair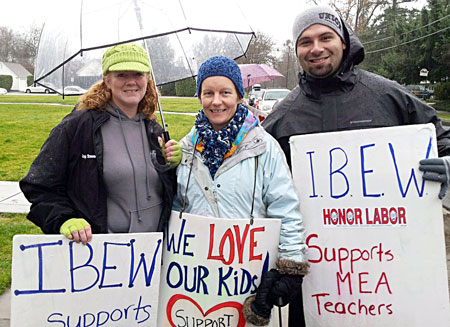 People sometimes say a union is like a family. In this case, it is literally true. IBEW 1245 Organizing Stewards Kristen Rasmussen and Michael Musgrove, in Medford, OR to support striking teachers, were joined on the picket line this week by the sister-in-law of IBEW 1245 Business Representative Junior Ornelas. Vanessa Hogan is a Special Education Teacher Specialist on special assignment covering all 22 schools in the Medford School District.
DAY 1:  Organizing Stewards hit the picket line in Medford
IBEW 1245 Organizing Stewards Kristen Rasmussen and Michael Musgrove pumped up the teachers' picket lines in Medford, OR the day before Valentine's Day, wearing bright yellow shirts and their IBEW 1245 steward jackets.
Rasmussen and Musgrove reported that every time they approached a new picket line they were greeted with applause and gratitude.
"The solidarity we're experiencing is unbelievable," said Musgrove, a seven-year IBEW 1245 member. "Sending people out to help other unions is incredible. The teachers used to introduce themselves from the school they're from, now they introduce themselves as 'Union Teachers.' "
The picket line, he reported, "has brought everyone together."
In addition to picketing, Musgrove and Rasmussen spent time canvassing businesses in downtown Medford on Thursday. Twenty-four businesses agreed to have flyers posted in their windows promoting a Feb. 15 community rally in support of the teachers.
Thursday night they reported out at the picket captains' meeting. On Friday they will be joined by IBEW linemen on the picket line.
The teachers have been on strike since Feb. 6.
——————————-
They love IBEW 1245 in Medford, Oregon—and it's not just because of Valentine's Day.
Striking teachers gave IBEW 1245 Organizing Stewards Michael Musgrove and Kristen Rasmussen a standing ovation when they arrived at a Picket Captains' meeting the evening of Feb. 12. Musgrove and Rasmussen had just arrived from IBEW 1245 headquarters in Vacaville, CA to assist members of the Oregon Education Association, who have been on strike since Feb. 6 over salary, working conditions and retirement benefits.
The teachers' union is gearing up for a community support rally on Feb. 15. The two IBEW 1245 organizing stewards will help build support for the strike and recruit people for the rally. They got an early start on Thursday, joining the picket line at 5:30 a.m.
Musgrove and Rasmussen mobilized in less than 48 hours to come to the aid of the striking teachers.