By Rebecca Band
After struggling for years to provide top-notch representation with exceedingly limited resources, IBEW Local 2131 has officially merged with IBEW Local 1245.
IBEW 2131, a small, Bay Area-based manufacturing local, represents just over 300 workers who manufacture everything from home electronics to high-tech equipment for nine signatory employers, including Lockheed Martin Space Systems and NorthropGrumman.
"IBEW 1245 now represents manufacturers that build portable substations, train cars, high-voltage electronic distribution systems… even the electronics on the Mars Curiosity Rover," said IBEW 1245 Assistant Business Manager Ray Thomas, who coordinated the merger. "It's an honor to represent them."
For years, IBEW 2131 operated with just one full-time staff person—Business Manager Jack Floyd. "He did it all. Bookkeeping, grievances, litigation, everything. And he's served his members very well," IBEW 1245 Business Manager Tom Dalzell said of Floyd.
"It's been a bittersweet merger for him, because this local is like his child he's raised. We are a large local and can do things small local can't do, but Local 2131 did things a big local can't do, and what Jack has done is extraordinary there. I thank him for his work," Dalzell said.
"Coming over to 1245 is the best deal we've ever had," Floyd told the IBEW 1245 Advisory Council while flanked by worker-representatives from his local. "These guys are going to get a heck of a lot better representation than I could ever give them [on my own]."
Although organizing manufacturing workers is part of IBEW 1245's charter, this is the first time in decades that the local has included workers in the skilled manufacturing sector. The IBEW 1245 Advisory Council has created a new unit, #5000, based in the East Bay, for new members in manufacturing.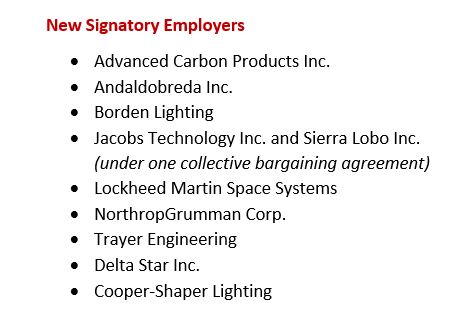 "The merger between IBEW 2131 and IBEW 1245 is going to be beneficial to our new manu- facturing members," said IBEW 1245 Business Representative Cruz Serna, who has been tapped to represent the new manufacturing unit. "Not only do they have me as their full-time business representative, but they also have an entire staff of reps, organizers and our own legal staff for support. I've talked to several of the new members and they are all excited to be a part of our local and are looking forward to a new future with IBEW 1245."
The new manufacturing unit is now eligible to fill the long-vacant manufacturing seat on the IBEW 1245 Advisory Council. For more information, email Cruz Serna at C3SW@IBEW1245.com.
Rebecca Band is Communications Organizer for IBEW 1245.