Wellington work dies down
By Ron Cochran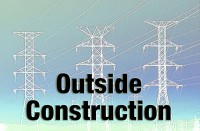 After 7 years of steady employment for hundreds of IBEW workers, Wellington Energy has come to the end of the Smart Meter Project on PG&E property, at least for now. They were laying off the remainder of their work force at the end of December and early January. It's hard to imagine the number of employees they kept working over the last 7 years with very few labor issues, and most of those were resolved amicably. It was a good run and a lot of our members benefited from the good jobs they provided.
There are several other large projects that have started and the overall man-hours continue to be at record level; 2014 looks to be another record year. The projected work for 2014 is on the same schedule as announced last month.
Compliance Work
No new compliance prevailing wage work is being performed on non-union contractors performing work in our jurisdiction. We are, however, looking at non-signatory contractors performing electric only work on PGE property. The appropriate avenue to protest these awards are being followed.
Grievances
There are no new grievances that have progressed beyond the first step which we deal with on a daily basis. Paycheck continues to be an issue when someone is let go or quits. These seem like weekly issues that continue to consume time to resolve.
The wrongful termination case with Osmose may be heading towards arbitration.
Siemens, a wrongful termination grievance was resolved.
Outside Line Apprentice Interviews
The first week of December was spent interviewing over 900 applicants and scoring each applicant for potential apprentice positions if and when they become available in the future. This took many resources from all 3 IBEW Locals (Local 1245, 47, 396) and NECA contractors, as well as the Cal- Nev JATC. There are still approximately 100 more applicants that need to be interviewed before the application process opens up again. Those interviews should take place the first part of 2014.
The application process for Outside Line Apprentice program is usually open for one month, usually sometime in the first quarter of the year. Anyone interested in applying should check the website at www.calnevjatc.org.
Organizing
In the month of December we signed the following contractors to the California Outside Line Construction Agreement:
Americom Technology, Inc.
National Conductors Constructors
We have been working with Accu-Bore to sign a Letter of assent. This was signed under Veteran Power Jan. 3, 2014. Will be making the switch sometime in January for Veteran Power to assume the civil electrical work through IBEW.
Injured Workers Fund
The balance of the fund as of Dec. 17, 2013 was $651,080.09. There were no claims paid out in December 2013.
Richard Ingle
Richard Ingle returned to the Outside Line group the second week in December and resumed the work he was doing as a Field Rep with his primary duties of performing job site visits and being a presence in the field and handling most of the issues that may come up while performing this important work.
Apprentice Report
We currently have 354 Outside Line apprentices registered in our JATC program.
86 apprentices are working out of local 1245
218 are working out of Local 47
9 are working out of Local 396
41 are unemployed (12 are actually eligible to work,
29 can't work: 9 on disability, 9 on leave, and 11 are suspended.)
We have graduated 30 apprentices to journeyman lineman.
We have indentured 92 Outside Line apprentices this year.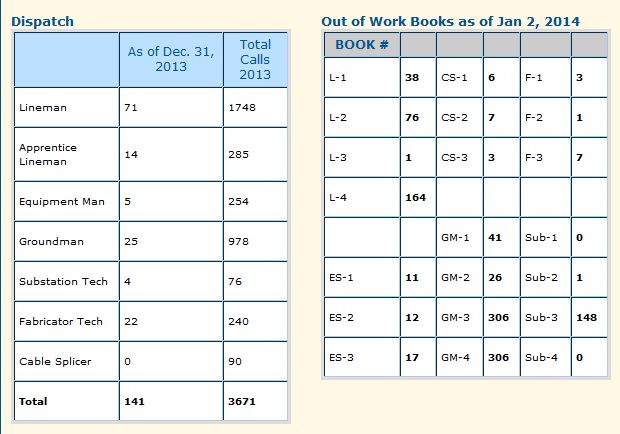 2014 Training Schedule and Special Events
First Aid & CPR is the 2nd Saturday of every month at our Riverside and Sacramento facility.
2 Clay Shoots: Both on April 5, 2014 — Dunnigan and Hilmar
Soccer Tournament: April 12, 2014, Merced
Soccer Tournament: April 26, 2014, Fairfield
Ron Cochran is Senior Assistant Business Manager, IBEW 1245.