National Sisterhood United for Journeymen Linemen
by Eric Wolfe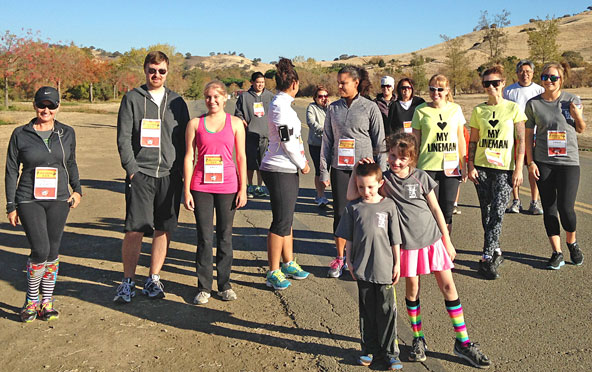 Several IBEW 1245 members joined a "virtual run" sponsored by the National Sisterhood United for Journeymen Linemen on Nov. 9.
Just to be clear: the run wasn't some imaginary footrace conducted on-line. People worked up a sweat in the event, which featured 1k and 5k competitions.
One of them was IBEW 1245 Business Representative Liz McInnis, who took first place in the 5k competition. Another was Assistant Business Manager Ralph Armstrong, who did not.
It was only the second time that McInnis had run a 5k. She said she participated to show support for the NSUJL, which raises money to assist the families of linemen injured or killed on the job. But she had personal goals as well:
"I wanted to run a 5k," she said. "And I wanted to beat Ralph."
Beating Ralph, it turned out, wasn't that hard. He admits he got a bit lost on the 5k course and suspects he may have ended up covering about 10k by accident.
Honoring Fallen Linemen
Among the other participants was IBEW 1245 member Josh Mauchley, along with his wife Jessica and their children.
"We did the run as a family. We ran to honor the fallen or injured lineman," Jessica said. They dedicated their run specifically to Solomon Riley, a linemen who was injured on the job and is still in the hospital.
Derek Graff, an IBEW lineman out of Local 396 in Las Vegas, was guest speaker for the event. Graff was burned over 40% of his body last year, so he well understands the Sisterhood's mission to help fallen and injured linemen.
"His speech was amazing and really touched our hearts," Jessica said.
A couple dozen runners participated in the Vacaville event, joining hundreds of others across the nation who competed on the same day—all of them adding up to a national "virtual" run. Runners were charged a fee, with proceeds going to the NSUJL.
McInnis said the Vacaville course was challenging.
"I had a few hills, there was dirt and gravel, that type of thing—it wasn't like a direct path."
She also had to circumnavigate a lot of—there's no polite way to say this—horse manure.
"It wasn't like running on a treadmill, that's for sure!" she observed.
"A lot of good things"
"The Sisterhood does a lot of good things for the families of IBEW members," said Armstrong. "They've helped several members of our local already."
McInnis noted that the help provided by the Sisterhood is more than just financial.
"They provide emotional support. They have people calling to offer support to the families—sending flowers, watching your kids, whatever is needed. People really rally around when they hear that a lineman is injured or killed," said McInnis.
Even though it is a national organization, McInnis said the Sisterhood is "like a small community where people do whatever they can to help no matter where they are or where you are."