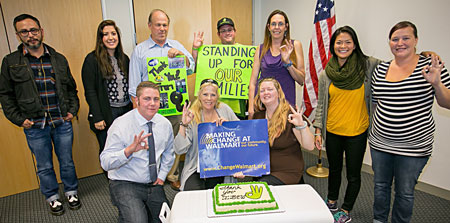 Walmart workers and strikers chose a tasty way to thank Business Manager Tom Dalzell and the IBEW 1245 Executive Board for the union's extraordinary support this year for the OUR Walmart campaign: a large cake inscribed "Thank You IBEW."
The gift recognized the logistical support given by IBEW 1245 member organizers to the Walmart workers' campaign to achieve better wages and working conditions at Walmart. The Walmart workers also presented IBEW 1245 with a giant thank you card signed by current and former Walmart workers, including some who were terminated for striking.
Walmart is the largest employer of retail workers in the world, bringing in more than $400 billion in revenue a year. Walmart's CEO was paid $20 million last year, while associates make an average of  $8.81 an hour. Each Walmart store costs taxpayers around $1.7 million a year due to impoverished associates having to depend on government assistance.
Click here to read the thank you letter to IBEW 1245 from UFCW President Joe Hansen.