Just in time for the holidays, IBEW 1245 is offering a line of beer and shot glasses that celebrate the Lineman's tradition.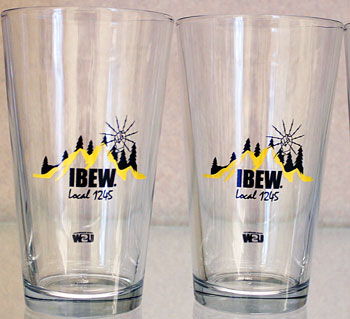 Option number one is the "Lineman's Club" beer glass, an authentic reproduction of the beer glasses used in the historic Lineman's Club of Oakland. The club's neon sign was recently refurbished and installed outside IBEW 1245 headquarters in Vacaville, and now the club's beer glasses have been restored to life as well, emblazoned with the original damsel-on-a-pole design. Glasses sell in sets of four, with a different color design on each glass: red, white, blue, and yellow. Set of four: $16.
Option number two is the "Mountain Peaks" logo that has been popularly featured on IBEW 1245 tee-shirts in recent years. Set of four: $16.
Option number three is the IBEW 1245 Shot Glass, featuring a reproduction of the Lineman Club's sign (see illustration, at right). Set of four: $11.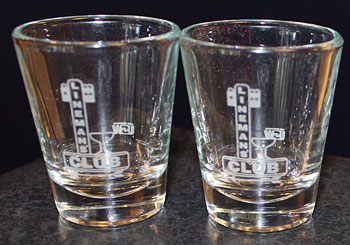 These beer and shot glasses can be ordered from your IBEW 1245 business representative, who will make delivery at your unit meeting. Quantities limited, available only as long as stock lasts. (Cash only.)
Want to fly your union colors every time you tip your glass? Here's your chance!