By Ron Cochran
Work continues to be steady and strong. We are still on track to work more construction man-hours than ever before in Local 1245.
We still have a fair amount of work in Nevada, with a new job starting on Mt. Wheeler property in a few weeks in the Ely area. We have had more work in Nevada in the last couple years, than in the last couple decades. Several smaller utilities in Northeastern Nevada are rebuilding their distribution systems while NV Energy Is building a major transmission line project from Northern Nevada to Southern Nevada using our Outside Line contractors for the construction. The mining industry is booming in Northern Nevada. Several wood pole line projects have been built while the mines are being upgraded.
The California work has been over the top. We have been very lucky in the fact the work has been steadier this year than in most past years. Ramping up the work force gradually during the construction season makes it much smoother to man the work and we would like to think it helps a great deal improving safety on the job sites. In California, we have work from generation site through replacing the customer's electric meter.
Next year, there will be more capacity work (reconductor and substation upgrades) than in the past. The electric utilities are now struggling with the newest issues born from green energy and how to handle Distributive Generation. This could be small scale roof top solar to a farmer replacing his crops with solar fields. Most of the distribution lines were not designed for bi-direction energy flow. This will cause a lot of reconductor related work for the line workers.
Grievances
We have had multiple paycheck issue grievances over the last month, all of which have been fixed with the exception of one. This grievance has progressed to the second step and looks as though it will be moving to Labor Management next month. It involves penalty pay for not receiving a final check in the time specified in the CBA. There is a high penalty pay amount which is sought.
Grievance over High Time Bonus was filed and is scheduled for Labor Management in November
The wrongful termination case with Osmose may be heading towards arbitration.
Siemens has a couple of outstanding issues pertaining to reimbursements and on call pay which has taken up a lot of time over the last couple of months and is still an open issue.
As always we resolve multiple other contract disputes early in the grievance process.
Outside Line Apprentice Interviews
The application process for Outside Line Apprentice program is usually open during the month of April. Over the course of the last 2 years there has been a little bit of a backlog in reviewing the large numbers of applicants and getting the applicants to interview.
In September we participated in interviewing approximately 160 applicants and by December will try to close out the remainder of the approximately 900 applicants who applied to this program. There will be a lot of time dedicated to the interview process from Locals 1245, 47, 396 and several NECA contractors.
Njatc Crane Certification Steering Committee
Around a year ago discussion in our industry regarding having our own specific crane certification program which is specific to our industry became serious. The thought was to begin with having the NJATC develop the curriculum and go the very expensive steps to create our own certifying agency. Approximately 3 months ago a conference call with all the parties involved–NJTC, AJATC's, IBEW and NECA–was held and direction was given to pursue this venture which will better serve our industry with regards to designing a program and training specific to our industry and be able to certify our workforce across the nation.
On October 22-24 the first face to face meeting of the steering committee met in Pittsburgh, Pa. to discuss many issues that need to be resolved before moving forward–issues such as program structure, OSHA rules and updates, crane certification process, crane certification program governance structure, and a certification process working plan. Next steps are to start an application process for both the steering committee and working committee and get the people in place to start the development of the program. This is on a fast track with the next meeting scheduled for the middle of December or first part of January.
IBEW / NECA Safety Committee Meeting
In September the 3rd quarter IBEW / NECA Safety meeting was held in Vacaville with several NECA contractors as well as representatives of Local 1245, Local 47 and the CAL-NEV JATC. Each group gave reports pertaining to incidents and accidents within their organizations.
The meeting started on a somber note with announcement that Brandon Orozco, an apprentice lineman working out of IBEW 47, died in a jobsite accident on Sept. 30. Brother Orozco was working for CAM Contractors, Inc. He was killed in an underground vault high voltage contact accident on Southern California Edison property in the Huntington Harbor area. The incident is being investigated by the authorities, including local fire and police, as well as by Cal-OSHA. IBEW 1245 offers our condolences to the friends, family and co-workers of Brother Brandon Orozco.
Wilson Construction also went over the recent fatality they had in Oregon working for Bonneville Power administration.
There were several other discussions in this meeting, including work procedure errors, foreman training, and journeyman training. FR Clothing and funding was also a topic of discussion as well as the efforts taking place to create our own industry-specific crane certifying agency as discussed above.
PG&E / Contractor Safety Meeting
PG&E also held their quarterly contractor safety meeting in San Ramon in September. This meeting focused on work procedure errors (WPE). Each contractor who had a WPE in the last quarter is required to go over what happened and what steps they have taken to prevent a similar occurrence. These incidents are shared with all. They are also looking for trends and are things they can do as a group to prevent future WPEs.
California Highway Patrol also attended the meeting and put on a presentation centered on distracted driving.
Compliance Pole Test
We are currently running compliance on several projects to ensure prevailing wage rates are being paid.
A pole test and treat contractor for work being performed on SMUD property. This work is all covered under a prevailing wage posting and we are hearing from some workers they may not be making the posted rate, which includes the total benefit package.
System 3 performing work at Hetch Hetchy as part of fire restoration work rebuilding the distribution system.
Gas inspection contractor who triggered some payroll discrepancies pertaining to travel, mileage and expenses. This issue was resolved.
Two line clearance Tree Trimming companies performing work in our jurisdiction.
Organizing
In the past three months we have organized the following contractors to the CA Outside Line Construction agreement:
Mirarchi Brothers
Wasatch Electric
Wave Excavation
Control Solutions
Mohawk Electric
Synergy Tree Trimming In- Master Line Clearance agreement.
We have talked with Atando Excavation, Daleo Inc., Cache Valley Electric and Pacific Gold Marketing.
Injured Workers Fund
As of Sept. 30, 2013 the balance of the fund was $626,010.91. The fund has paid out only one claim in the last three months.
We are in the process of increasing the death benefit of the fund from $25k to $50k.
Apprentice Report
We currently have 341 Outside Line apprentices registered in our JATC program.
114 apprentices are working out of Local 1245
166 are working out of Local 47
34 – working out of Local 396
9 are unemployed (27 are really unemployed, but 18 can't work)
We have graduated 26 apprentices to journeyman lineman.
We have indentured 65 outside line apprentices this year.
We currently have a climbing class in progress with 18 individuals attending and hopeful that all 18 will pass the class and be sent out to work.
We have 1 traffic signal maintenance apprentice registered and he is working for Siemens in 1245's jurisdiction.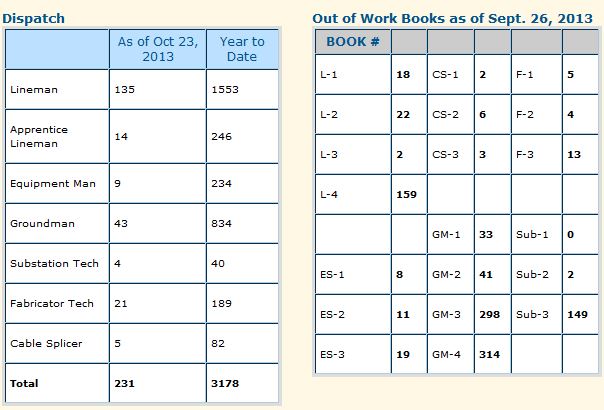 2013 Training Schedule and Special Events
First Aid & CPR is the 2nd Saturday of every month at our Riverside and Sacramento facility
OSHA 10 ET&D class, Contact the CalNev JATC for future class schedules. They will be done based on the number of people who express interest.
Shop Steward Training on November 16, 2013 at the Vacaville Office. Invites have been sent out and the training committee is set.
Ron Cochran is Senior Assistant Business Manager, IBEW 1245.