By Ron Cochran
Work continues to be great. We are on track to work more construction man-hours than ever before in Local 1245.
We still have a fair amount of work in Nevada, with a new job starting on Mt. Wheeler property in a few weeks in the Ely area. We have had more work in Nevada in the last couple years than in the last couple decades.
Several smaller utilities in Northeastern Nevada are rebuilding their distribution systems while NV Energy is building a major transmission line project from Northern Nevada to Southern Nevada using our Outside Line contractors for the construction. The mining industry is booming in Northern Nevada. There have been several wood pole line projects built while the mines are being upgraded.
The California work is has been over the top. We have been very lucky this year that the work has been steadier this year than in most past years. Ramping up the work force gradually during the construction season makes it much smoother to man the work and we would like to think it helps a great deal improving safety on the job sites. In California, we have work from generation site through replacing the customer's electric meter.
Next year, there will be more capacity work (reconductor & substation upgrades) than in the past. The electric utilities are now struggling with the newest issues born from green energy and how to handle Distributive Generation. This could be small scale roof top solar to a farmer replacing his crops with solar fields. Most of the distribution lines were not designed for bi-directional energy flow. This will cause a lot of reconductor-related work for line workers.
The future work outlook is bright for our line workers!
Grievances
We have two new grievances on members not receiving their final paycheck that are at step 1 of the grievance procedure. We have one in the investigation stage regarding per diem.
Organizing
In September we signed the following contractors to the California Outside Line Construction agreement:
Wasatch Electric
Wave Excavation
Control Solutions
Mohawk Electric
We are in talks with other contractors as well.
APPRENTICE REPORT
We currently have 341 outside line apprentices registered in our JATC program.
114 apprentices are working out of Local 1245
166 are working out of Local 47
34 – working out of Local 396
9 are unemployed (27 are really unemployed-but 18 can't work)
We have graduated 26 apprentices to journeyman lineman.
We have indentured 65 outside line apprentices this year.
We currently have a climbing class in progress with 18 individuals attending and hopeful that all 18 will pass the class and be sent out to work.
We have 1 traffic signal maintenance apprentice registered and he is working for Siemens in 1245's jurisdiction.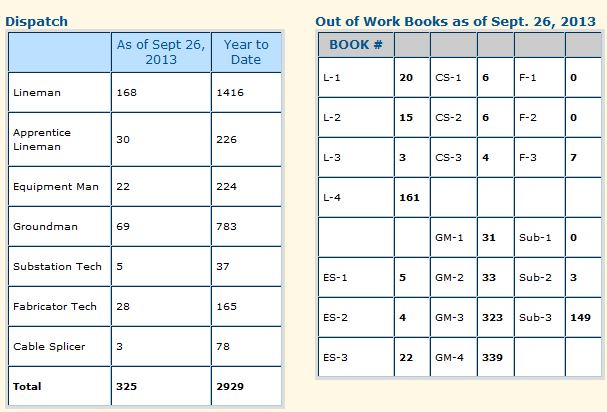 2013 Training Schedule and Special Events
First Aid & CPR is the 2nd Saturday of every month at our Riverside and Sacramento facility
IBEW Golf Tournament, October 12, 2013 Vacaville
International Lineman Rodeo, October 17-19, 2013
Shop Steward Training on November 16, 2013 at the Vacaville Office
Ron Cochran is Senior Assistant Business Manager, IBEW 1245.