By Ron Cochran
As usual we have several grievances going in the first steps. They are mainly payroll issues and claims of wrongful termination. We are still in the discovery stages of these grievances.
The wrongful termination case with Osmose may be heading towards arbitration.
In the month of August, there were final payouts on two large grievances both in Nevada. Both of those grievances are now closed.
Alcohol And Drug Testing Policies
Please see this important post on alcohol and drug testing policies.
Review your benefit reports statements
We routinely get notified of some contractors who may be behind on their benefits and their reporting. The trusts funds typically will contact the contractor and take action to obtain those funds on behalf of the membership but there are also times when some workers get reported incorrectly or in a recent case there was no reporting at all for the whole work force for several months. We work to get these issues corrected and we can be notified by the funds to remove a whole workforce for lack of reporting.
What each member should do is keep track of their paystubs and reconcile them with their quarterly statements. It is important to bring any lack of reporting issue up sooner rather than later. On this note, when reconciling their statements everyone should also be aware that reporting is 2 months behind. So hours worked in July will not show up in the funds until September.
Compliance Pole Test
We are currently running compliance on a pole test and treat contractor for work being performed on SMUD property. This work is all covered under a prevailing wage posting and we are hearing from some workers they may not be making the posted rate which includes the total benefit package.
Organizing
In August we signed the following contractors:
Mirarchi Brothers —OSL agreement
Wasatch Electric — OSL Agreement
Synergy Tree Trimming In- Master Line Clearance agreement.
Apprentice Report
We currently have 326 outside line apprentices registered in our JATC program.
95 apprentices are working out of Local 1245
159 are working out of Local 47
35 – working out of Local 396
37 are off of work (29 are not eligible to work)
24 apprentices have graduated to journeyman lineman this year
44 apprentices have been indentured this year
We have one traffic signal maintenance apprentice registered and he is working for Siemens in 1245's jurisdiction. We have graduated a total of 18 traffic signal apprentices.
Injured Workers Fund
The balance of the fund as of July 31, 2013 was $606,583.08. There no claims paid out in the month July.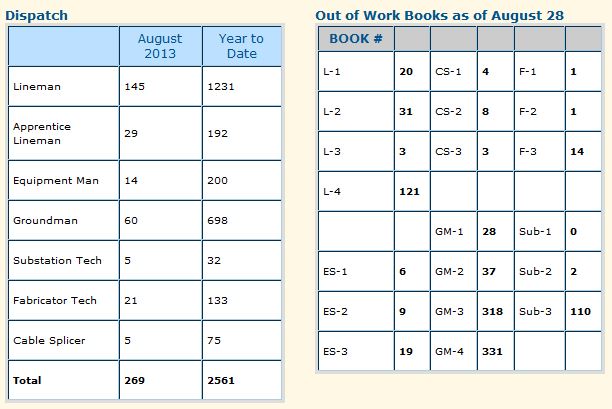 2013 Training Schedule and Special Events
First Aid & CPR is the 2nd Saturday of every month at our Riverside and Sacramento facility
IBEW Golf Tournament, October 12 Vacaville
International Lineman Rodeo, October 17-19
OSHA T& D Training, August 22 – August 23 in Riverside, CA. There are still spots open in the class. Contact the JATC directly to sign-up.
Shop Steward Training on November 16 at the Vacaville Office
Ron Cochran is Senior Assistant Business Manager, IBEW 1245.