IBEW Local 1245 will receive several awards in the annual Labor Journalism Contest conducted by the International Labor Communications Association, AFL-CIO. The awards were announced on-line in July and will be presented at the ILCA convention in Los Angeles in September.
The Utility Reporter, IBEW 1245's quarterly newspaper, won first place for General Excellence among local and regional union publications with circulation of 20,000 or more.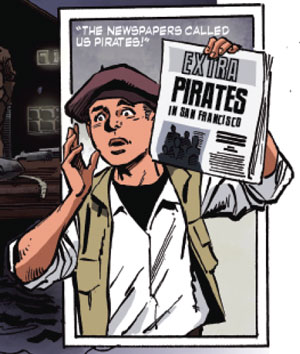 "First Day"—a comic book history of IBEW 1245—won first place for Non-Periodical Publications. The comic, originally conceived by Business Manager Tom Dalzell, was produced by Communications Director Eric Wolfe and comic book creator Tom "tk" Christopher.
Helen Gan, a 52-year member of IBEW 1245 who died April 15 of this year, received first place for Best Editorial or Column with her moving biographical essay, "Vote No on Proposition 32."
Sister Gan's work against Proposition 32 also helped IBEW 1245 win a third place audio/video award for Short Video Promos (under 60 seconds). Gan's video, produced by Storefront Political Media, has received over 132,000 views on YouTube.
The Utility Reporter won second place for Best Design for local union newspapers. Design work on the newspaper is performed by Kifer Graphics.
Best Photo Essay, second place, was awarded to the Utility Reporter for a collection of photos by photographer John Storey featuring members at PG&E working on the Calaveras Upgrade.
Business Manager Tom Dalzell is executive editor of the Utility Reporter. Eric Wolfe is managing editor.