Work from every corner
Good to be an Outside Line member this summer
By Ron Cochran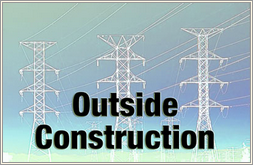 The work outlook is on schedule as forecasted in prior months' reports. There is work from every corner of Local 1245's jurisdiction at this time. We are performing deteriorated pole and cross arm replacement projects, Rule 20, and Underground Cable replacement in nearly every county in Northern California. Re-conductor projects as far north as Arcata, CA and Transmission Line construction projects as far east as Ely, NV. There's plenty of work in Fresno, Bakersfield and all over the Central Coast. It's good to be an Outside Line member this summer.
GRIEVANCES
Two major grievances have been settled over Outside Line Contractors subcontracting to non-signatory civil contractors. This takes work from our members. The grievances were settled in the members' favor.

We are still working through a load of grievances on the Automated Metering Project in Northern Nevada. These grievances should be completed in the next thirty days.
We settled a wrongful termination grievance on one of the solar projects, in the members favor.
We have a large missed meal grievance in the second step in Northern Nevada. We are working towards resolution, but the grievance looks like it is headed towards a labor management committee.
ORGANIZING
The following Contractors were recently organized:
HM Pipeline Services Corp.–Gas Inspector agreement
Alpha Pacific Concrete–Outside Line Construction agreement
Pinnacle Power Service, Inc. –Outside Line Construction agreement
KVA Electric–Outside Line Construction agreement
2013 TRAINING SCHEDULE & SPECIAL EVENTS
First Aid & CPR is the 2nd Saturday of every month at our Riverside and Sacramento facility.
IBEW 9th District Softball Tournament, Aug. 17-18, 2013, Orange, CA
IBEW Golf Tournament, Oct. 12, 2013 Vacaville
International Lineman Rodeo, Oct. 17-19, 2013
APPRENTICE REPORT
We currently have 343 Outside Line apprentices registered in our JATC program and five traveling apprentice working in our jurisdiction.
103 apprentices are working out of Local 1245
152 are working out of Local 47
25 are working out of Local 396
44 are unemployed (20 are really unemployed, but 24 can't work)
We have graduated 14 apprentices to journeyman lineman.
We have indentured 44 Outside Line apprentices this year.
We have two traffic signal maintenance apprentices registered.
One is working for Republic Electric in 1245's jurisdiction.
Zero are working for Republic Electric in 47's jurisdiction.
We have graduated a total of 18 traffic signal apprentices.
INJURED WORKERS FUND
The balance of the fund as of May 24, 2013 was $560,389.58. There no claims paid in the month of May.
Dispatch

Out of Work Books as of June 23, 2013