Eleven IBEW 1245 young members met with California Attorney General Kamala Harris, former Deputy White House Chief of Staff Maria Echavaste, and Jesse Marron of Delancey Street. The civic and community leaders shared their perspective on leadership and organizing in San Francisco in three different setting.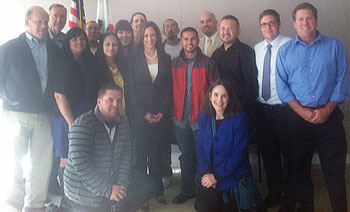 The set of meetings, held April 8, were part of IBEW 1245's leadership development program for emerging leaders. The meetings were set up by IBEW 1245 Business Manager Tom Dalzell and Organizer Fred Ross.
The meetings focused on the importance of engaging the struggle for social justice from the streets as well as from the inside of power centers. They emphasized the importance of searching for the truth, and having the courage to put ourselves out there in that search.
"The gentleman from Delancey Street's motto – 'each one, teach one' – is a great motto to live by as members of IBEW," said Rosario Garcia, a Line Clearance Tree Trimmer from Trees Inc. "We need to always train the next generation. If we don't, then everything we worked hard for will die with us."
Jammi Juarez, a PG&E clerical worker active in the IBEW's Sacramento Organizing Committee and a veteran campaigner in Wisconsin, Ohio and Florida, was moved by Maria Echavaste's emphasis on the power of each of us to make a difference as long as we are united and the importance of leaders listening in order to figure out the truth.
Davey Tree Trimmer Justin Casey was moved by Kamala Harris's insight that "being a leader isn't always easy. It's a commitment to take on that role."
PG&E clerical worker Donchele Soper underscored the theme of courage.
"Attorney General Kamala Harris stood up to the big banks and other politicians, and didn't buy into the excuses the rich or those in power have sold for decades. She asked questions, demanded answers and refused to give up," said Soper.
Common themes on effective leadership included the courage to tell the truth, the need to listen, to motivate others, to lead by example, to sacrifice for the greater good and to be true to one's self and to the values we hold dear.
Participating in the activities on April 8 were Jammi Juarez, Donchele Soper, Kevin Krummes, Justin Casey, Tanny Hurtado, Roderigo Flores, Rosario Garcia, Jacinto Hernandez, Logan Thomas, Rene Cruz Martinez, Lorenso Arciniega, along with Business Manager Tom Dalzell and staff members Fred Ross, Jennifer Gray and Eileen Purcell.