Stewards Focus on Rights in Workplace
Public/Private Sector shop steward training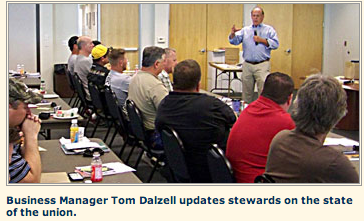 Two IBEW Local 1245 training conferences for public and private sector stewards put the focus right where it belonged: on workers' rights in the workplace.
The conferences, held April 15 in Reno and April 23 at Weakley Hall in Vacaville, were well received by old hands as well as those with less time on the front lines of defending workers.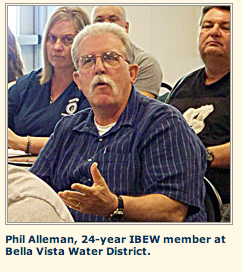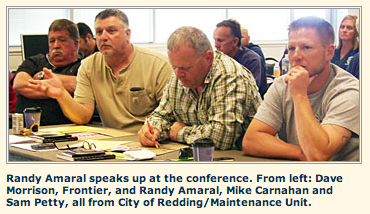 "Training and education are a must!" said Phil Alleman, a 24-year IBEW member at Bella Vista Water District and a steward for most of that time. "The better informed we are as shop stewards, the better prepared we are to assist our members."
Alleman, who attend the training in Vacaville, said that speakers hit key topics that shop stewards "have dealt with, are dealing with, or will soon be faced with, all of which was good."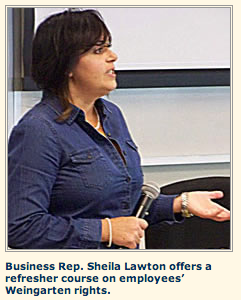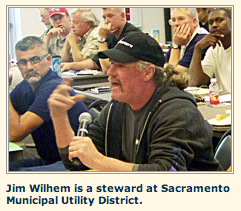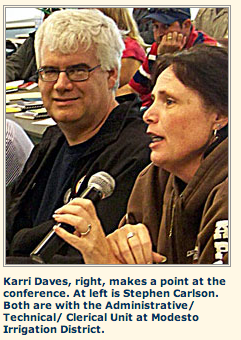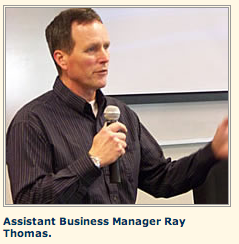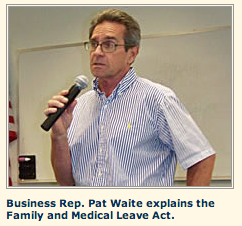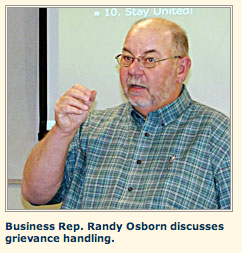 Sheila Lawton got things going with a refresher course on Weingarten rights. These rights result from a United States Supreme Court ruling in 1975 that employees have a right to union representation at investigatory interviews.
Sam Glero discussed the elements of just cause in determining whether disciplinary action is justified, Al Fortier examined the rights of shop stewards in the workplace, and Randy Osborn laid out the basic elements of handling grievances.
J. V. Macor reviewed the principle of "past practice," which is any longstanding, frequent practice that is accepted and known by both union and management. Charley Souders discussed the union's duty to provide fair representation, and how stewards can help the union avoid charges that it failed to provide fair representation. Pat Waite examined some of the key elements of the Family and Medical Leave Act and the California Family Rights Act.
"There were lots of good speakers, and lots of good tools to use," said Brad Solso, a Water Treatment Operator at Bella Vista Water District and a steward for three years. Solso is training up to take the place of Phil Alleman.
Samuel Petty, a steward at the City of Redding/Maintenance Unit, said he walked away from the meeting "a much more informed steward."
"All of the presentations were very informative and educational," said Petty.  "I feel much more confident and able in my abilities as a shop steward.  I look forward to the next training and learning as much as possible to be as good as I can."
Denise Miller, a Senior Customer Service Rep at Modesto Irrigation District, found the training "very informative" and suggested it should be offered more frequently, perhaps every six months. Richard Behler, an Instrument & Controls Tech, also at Modesto Irrigation District, proposed the same idea, and suggested that part of the conference should consist of meeting in smaller groups or workshops.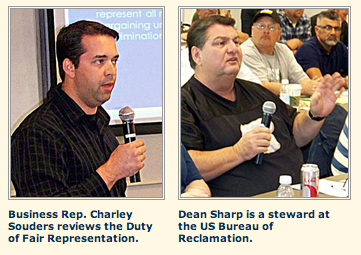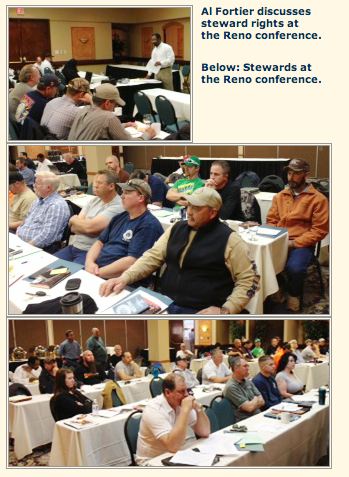 Lauren Bartlett, a steward at Sacramento Regional Transit and a member of the union's Advisory Council, appreciated the book on a steward's legal rights and the pocket guide distributed at the conference.
"I have been to many shop trainings, this one was by far the best!" she said.