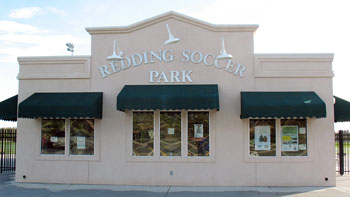 Youth soccer in Redding is getting a boost from IBEW Local 1245.
In response to a motion from a member, Unit 3217 (City of Redding), used

money from its unit fund to sponsor the community's youth soccer field.
"Getting our members more involved in the community was one of the main topics discussed this past spring" at the Local 1245 unit officer conference in Vacaville, said Gary Moeckli, a long-time union activist at the City of Redding unit.
There were plenty of reasons to get behind the local youth soccer field.
Some union members have children who play soccer in the area, Moeckli said. The community takes pride in the soccer field complex because it was built by the community and is "completely non-profit."
Add the fact that a member of the Olympic gold medal soccer team, Megan Ripino, is from Redding and attended school there, supporting the soccer league just "seemed like the right thing to do," said Moeckli.
The Redding unit chair is Paul Snyder.
The Local 1245 Executive Board recently approved additional funds to help IBEW Local 1245 units become more involved in local projects, sports teams, charity events and other community activities. If your unit has recently been of service to the community, let us know so that we can publicize your good works