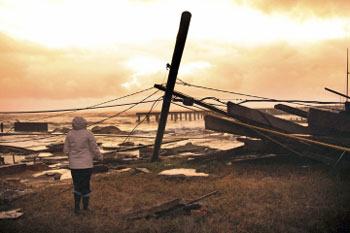 IBEW Local 1245 members are in the vanguard of the effort to restore power on the East Coast in the wake of Hurricane Sandy, the mammoth storm that flooded major urban areas and left millions in the dark.
Crews from all over PG&E's Northern and Central California service area left Tuesday from Mather Air Force Base in Sacramento, headed for the New York metropolitan area, which suffered some of the most serious damage from the storm. They will help Con Edison restore power in New York City and Westchester County.
More than 60 PG&E trucks and trailers are making the trip cross country – a 55-hour drive – from the utility's Davis yard to New York.
Local 1245 members working for Hot Line Construction and other electric line contractors will also be part of the restoration effort.
The Associated Press reported more than 8 million households in 17 states are without power. Full restoration is expected to take over a week.
As many as 10 states along the Eastern Seaboard –Virginia, Maine, Maryland, Massachusetts, North Carolina, Delaware, Pennsylvania, New Jersey, New York and Connecticut, as well as Washington, DC—have declared states of emergency in the wake of the storm.
A Canadian lineman dispatched to assist power restoration in Rutland, VT told the Canadian Broadcasting System that the Vermonters were "very welcoming."
"We've got standing ovations going into restaurants," he said.