Heavy rain fails to dampen competitive spirit at International Lineman's Rodeo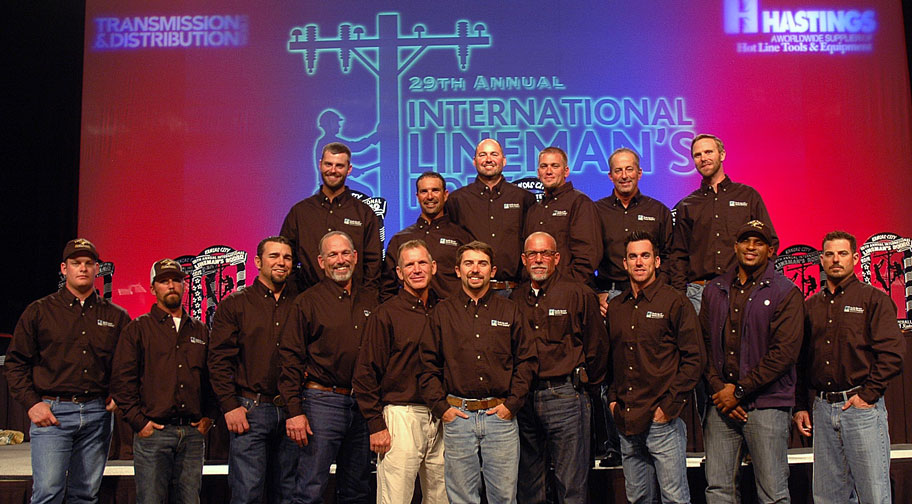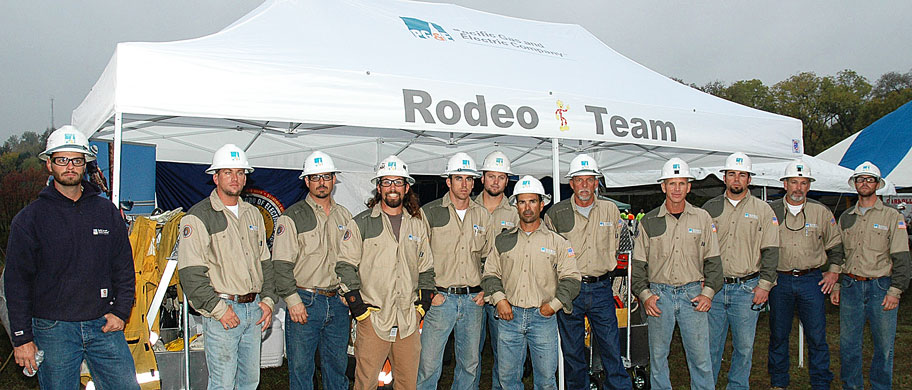 Brushing off wind, rain and generally terrible weather, Local 1245 gave their all at the 29th Annual International Lineman's Rodeo, held Oct. 13 in Bonner Springs, KS.
"It's just like another day at work," said Alex Price, a lineman at NV Energy. "Sometimes it rains, sometimes it shines, sometimes it snows. It's just another day on the job."
Lightning struck as Price was heading up the pole in the "speed climb," an event in which competitors have to descend the pole with a raw egg in their mouth. Price was only halfway to the top when a judge called him back down. Like many others, Price resumed the competition after the lightning subsided.
Local 1245 members—including journeymen and apprentices—competed from Sacramento Municipal Utility District, Pacific Gas & Electric, NV Energy, Liberty Energy, Modesto Irrigation District and Turlock Irrigation District.
For Keno Grigsby, a SMUD lineman, things didn't go exactly as he had hoped—"I cracked the egg on the egg climb" —but that didn't stop him from enjoying himself. "Seeing all the different people, being with the guys I work with—it was a good time."
Local 1245 Business Manager Tom Dalzell called the rodeo "a great celebration of the craft," giving linemen a chance to show their skills and to demonstrate some of the challenges of the work.
"The weather's a challenge," he acknowledged after one of several cloudbursts. "But linemen are used to it. Remember, they restore service in wind, rain, snow and sleet."
Despite the weather, Local 1245 linemen enjoyed the opportunity to meet some of their peers from throughout the United States and a few other countries. Chris Fukui, a SMUD lineman, found a lot more similarities than differences between them. "It's like talking to a lineman, man. Brotherhood, everybody talking, hanging out, talking about work."
"It's fun—great meeting linemen from across the country. Can't beat it," said Dylan Rogers, a Local 1245 lineman at Liberty Energy. "Sharing stories, meeting a bunch of guys—I'd do it every year if I had the chance."
Steve Johnson, a lineman from Turlock Irrigation District, said the biggest challenge was "just trying to get your routines down before the guys go up the poles so that things go as smooth as possible." The TID team had some good routines and some decent times, he said, but "we got a ding on one event" and that was enough to knock them out of the competition for trophies.
"We had some fun," Johnson said. "Hope we can come back and try it again next year."
Safe work practices are a major factor in all events. Judges deduct points for any deviation from these practices. Any such "ding" effectively ends your hunt for a trophy no matter how fast you perform the event. The teams scoring the maximum 100 points in an event are then ranked according to the fastest speed to establish the winner.
Local 1245 sent some of its most seasoned hands to serve as judges, including Dana Moler, a line trainer at NV Energy, and Journeyman Lineman Bubba Avery, a member of the Local 1245 Advisory Council.
"It's a competitive side of the men who do this type of work—they want to be competitive among themselves, they're a brotherhood," said Avery. "Every lineman thinks he's the best, as it well should be."
If linemen seem cocky by nature, there's a reason for it. A lineman will only get into trouble if he starts to feel afraid—or that he's not capable.
"You can't be afraid of electricity, you have to respect it. If you're afraid of it, it will hurt you," Avery said. "If you respect it and treat it with respect you can have a full career and a good livelihood."
Local 1245 teams make a good showing
Although Local 1245 members didn't nab the top honor in any of the events, the SMUD team of Cayleb Bowman, Matthew Wilson and Gregory Baird placed third in the Journeyman Hurtman Rescue event and second in the Journeyman Pole Climb. The Turlock Irrigation District team of Josh Klikna, Dustin Krieger and Steve Johnson finished eighth out of 205 teams in the Journeyman Mystery Event #2.
In the apprentice competition, SMUD's Rorry Malia finished second in the Mystery Event #1 and third in the Hurtman Rescue. Matthew McCurdy, Modesto Irrigation District, finished fifth in the Hurtman Rescue. James Boere, also of MID, finished sixth in the Mystery Event #1 and 13th in the Hurtman Rescue. Louis Jimenz of SMUD finished ninth in the Mystery Event #1 and also in the Apprentice Pole Climb.
Congratulations to these members on their great performances, and to all the Local 1245 participants who helped make the rodeo a success.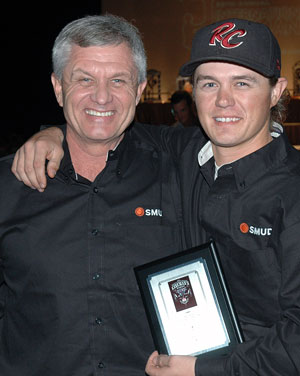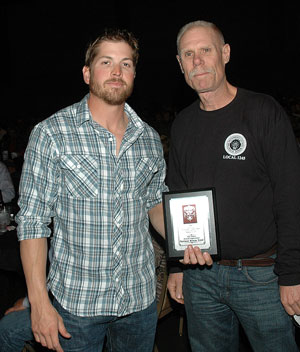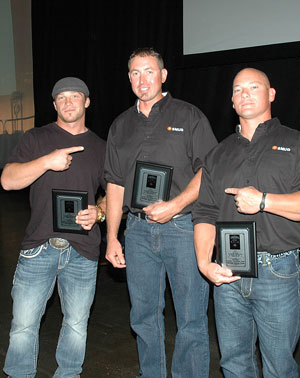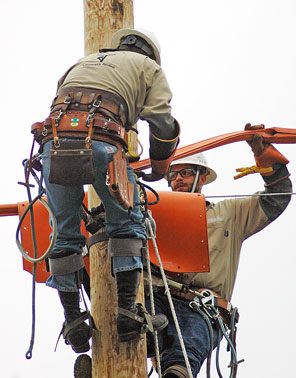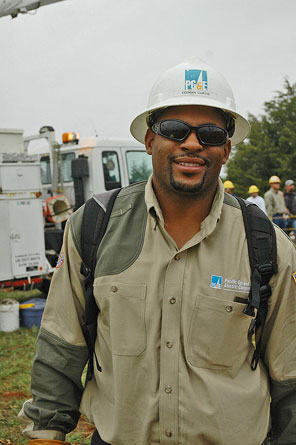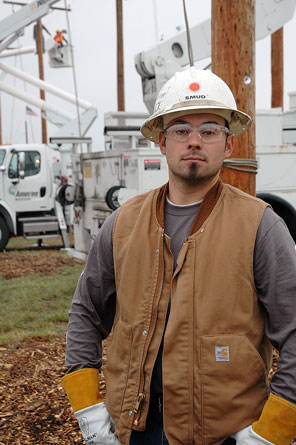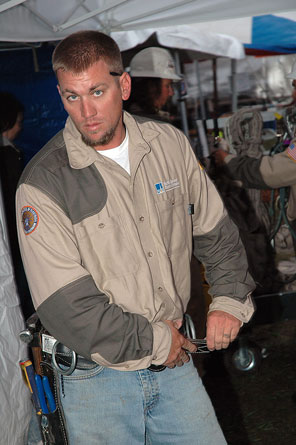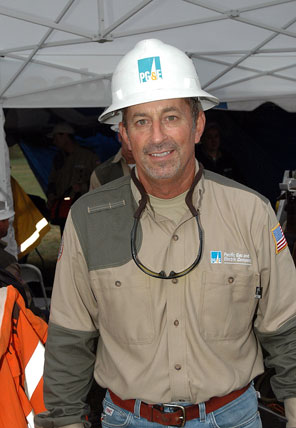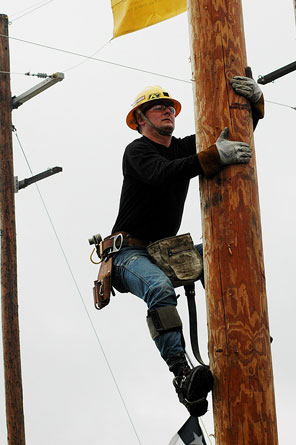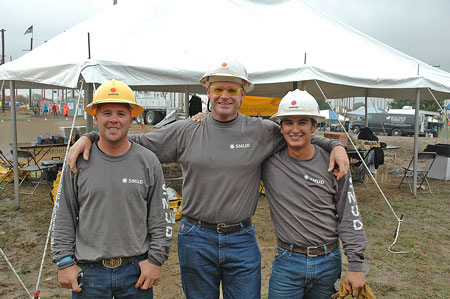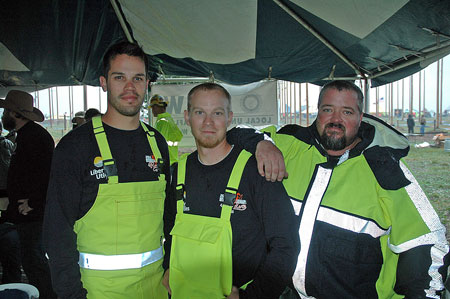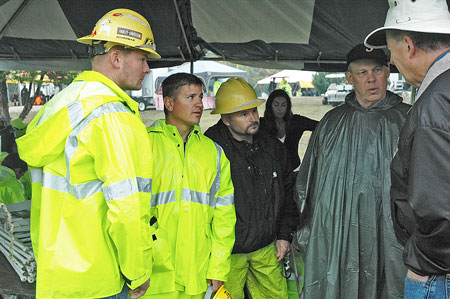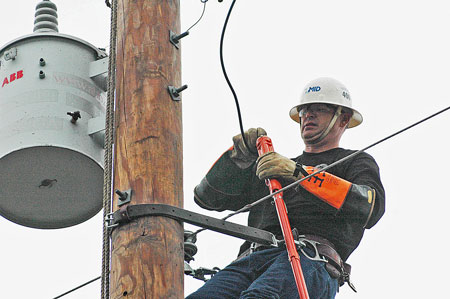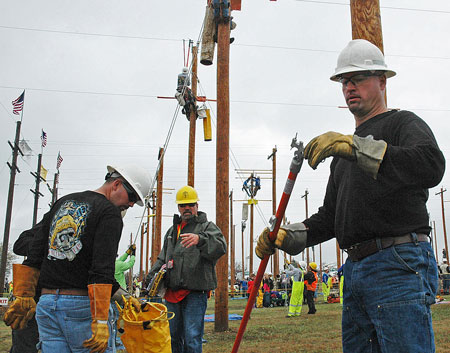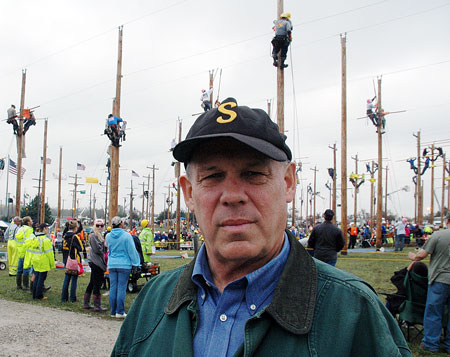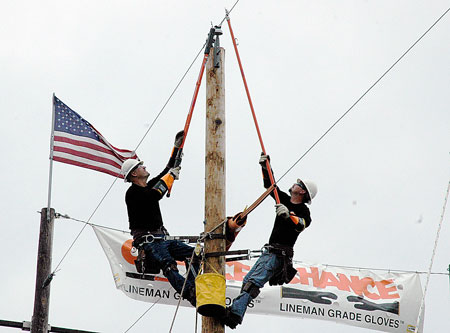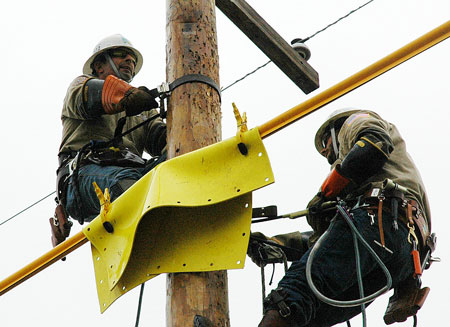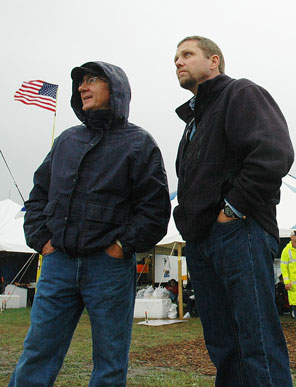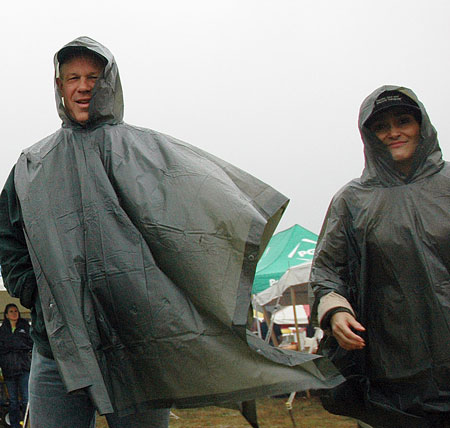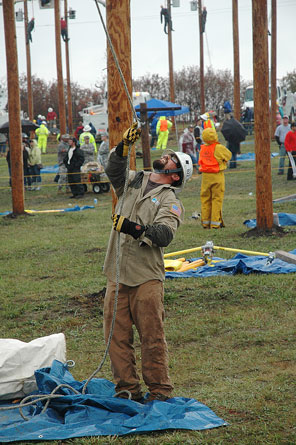 Photos by Eric Wolfe