Union Advances on Many Fronts
Local 1245 celebrated gains on several fronts at the Oct. 27 meeting of the Advisory Council in Vacaville. The photo highlights: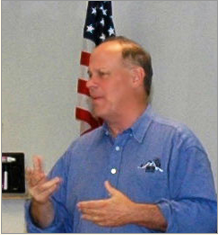 "The retirees taught us all a lesson about unity."
That's Business Manager Tom Dalzell, reporting on a breakthrough in the three-year conflict with NV Energy over retiree medical benefits. Retirees powered a campaign that included TV, radio and newspaper ads, retiree rallies in Reno and Vegas, pickets, Google ads, a lawsuit, and a Facebook campaign that garnered 50,000 supporters.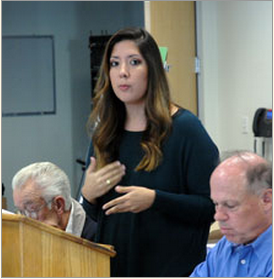 "We kicked off the 'No on 32' campaign on Oct. 6 with 89 members walking precincts in 16 locations around the state. We've made 32 worksite visits with business reps, collected 1,011 pledge cards and given out 475 t-shirts to volunteers."
That's Jennifer Gray, Local 1245's 'No on 32' grassroots coordinator, reporting on the union's mobilization to defeat Prop 32. A massive get-out-the-vote drive is planned for Nov. 3-6.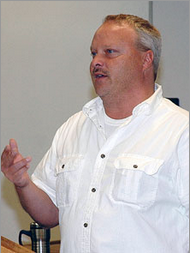 "Local 1245 sent members out to Wisconsin to help us with the recall of our senators and our governor. So when Local 1245 asked for help with your campaign against Prop 32, I volunteered right away to come out and help."
That's IBEW Local 159 Organizer Chris Crossen, who is in California from Oct. 21 – Nov. 8 to help defeat Prop 32.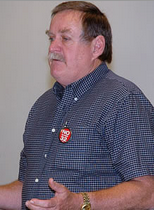 "Line Clearance Tree Trimmers now have an opportunity to have greater unity and strength at the bargaining table, and an opportunity to set the stage to win 'skilled labor' status and an apprenticeship program."
Local 1245 Business Rep. Carl Lamers, reporting on the recent ratification of a Master Agreement by Local 1245 Line Clearance Tree Trimmers at five signatory contractors.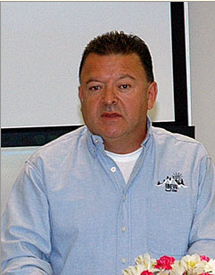 "This was the largest voter turnout in the history of tree contract ratifications, double the number from prior contract ratifications. The Yes Committee did a tremendous job in member-to-member communications."
Local 1245 Business Rep. Junior Ornelas, reporting on the ratification of the Master Agreement,, which passed with 81% voting in favor.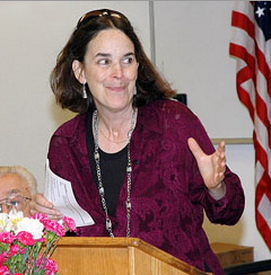 "This is a wonderful example of the power of education and the strength we gain through unity."
Local 1245 Organizer Eileen Purcell, praising the efforts of tree trimmer members, Local 1245 staff and Senior Assistant Business Manager Ron Cochran.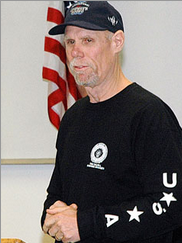 "We've seen some recent progress at Turlock Irrigation District, but we're not seeing much happening at Modesto Irrigation District."
Senior Assistant Business Manager Dennis Seyfer, giving an update on deadlocked negotiations at irrigation districts represented by Local 1245.
Responding to TID efforts to reduce linemen's emergency call-out pay, Merry DeSomma, a Turlock lineman's wife, met a few weeks ago with several members of the TID Board. She says this is what she told them: "Have you ever been called out at 3 in the morning? Have you ever been 90 feet up in the air in a bucket in the rain, tossed about by the wind? Have any of you ever been up in a bucket so close to a power line you can actually feel the electricity going through it, hear it? Been up there, put on your hot gloves and hope there are no imperfections and grabbed ahold of that power line? Have you ever done that? Have you ever walked in a lineman's boots?"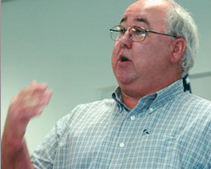 "The tree group just completed visits to 20 units. We've also completed training of 21 safety stewards."
Richard Lane, reporting on progress of the tree trimmer peer-to-peer safety initiative known as "Keep the Clearance."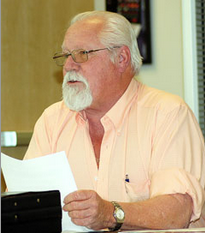 "He has been just a strong and passionate and articulate union activist. It is difficult to imagine Local 1245 without Jim."
Business Manager Tom Dalzell, noting the retirement of long-time Advisory Council member Jim Findley who, among other causes, has championed gas workers and gas safety. Findley has been a regular presence at PG&E annual shareholder meetings, insisting the company must do more for gas safety. If ever there was a Local 1245 "whistle blower", it's Jim Findley.

"The people who really deserve a pat on the back are the members who volunteer their time to walk precincts and work the phone banks. We hope we can beat back Prop 32 not only for ourselves but for all the workers in this state."
Anthony Brown, in the orange shirt, reporting on member involvement in the campaign to defeat Prop 32.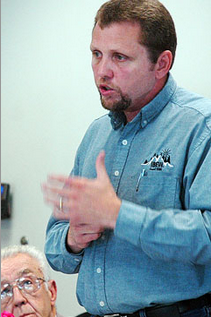 "We've had some serious accidents."
Ralph Armstrong, reporting the on-the-job death of Renee Curiel, a Davey Line Clearance Tree Trimmer who died Sept. 27, and reporting on the slow recovery of David Hansen, an IBEW construction lineman injured in a fall on Aug. 7 while working at the Shell refinery in Martinez.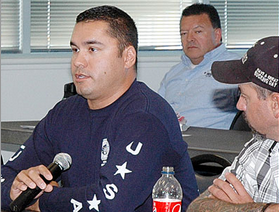 "Negotiations will continue Oct. 29 through Nov. 9—the current contract expires on Dec. 31."
Charles Forbes, reporting on current bargaining at the US Bureau of Reclamation.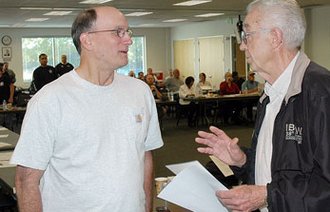 "I, Gary Maschio…"
Gary Maschio, left, takes the oath of office from President Mike Davis. Maschio is the new Advisory Council representative for San Francisco.