IBEW Local 1245 Sponsors Four Members for IBEW Motorcycle Run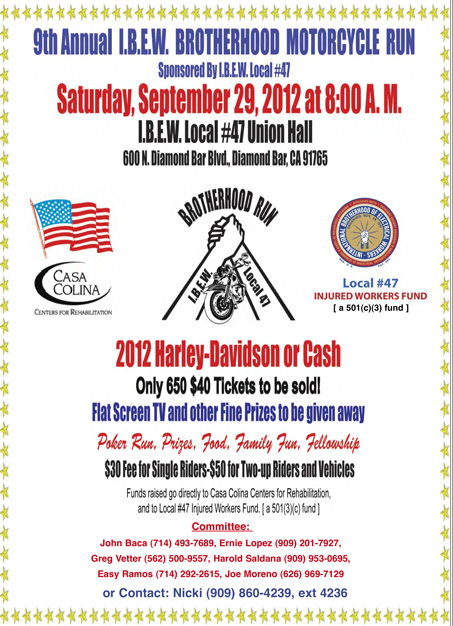 IBEW Local 1245 is sponsoring four members to participate in IBEW Local 47's Ninth Annual IBEW Brotherhood Motorcycle Run to be held Sept. 29 in southern California.
In conjunction with the Motorcycle Run, Local 47 is conducting a raffle with a 2012 Harley Davidson as the grand prize. A flat-screen TV is among the many other prizes. It is not necessary to compete in the Motorcycle Run to participate in the raffle.
"A 2012 Harley is a pretty great raffle prize," said Local 1245 Business Rep. Brian Kapaun, who will be participating in the event. "This ought to be a great Motorcycle Run and I'm really looking forward to it."
Besides food and fun for the whole family, the event benefits the Casa Colina Centers for Rehabilitation and the IBEW Local 47 Injured Workers Fund.
The registration fee is $30 for single riders and $50 for two-up riders and vehicles.
Any Local 1245 member can pay the fee and participate, but the first four members to sign up will have their fees and other necessary expenses covered by the Local 1245 Executive Board. To sign up for a free slot, contact Kapaun at 530-333-7667.
But even after the free slots have been taken, you can still participate. See the application information.