Calif. Young Workers Initiative Trains Tomorrow's IBEW Leaders
April 30, 2012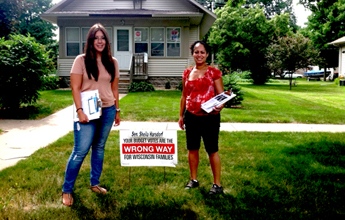 Vacaville, Calif., Local 1245 member Jennifer Gray, left, works as a political organizer.
The one-two punch of a crippling recession and widespread anti-worker legislation has left many working families in the U.S. and Canada battered and on the ropes.
But many young IBEW members are just lacing up their gloves for round two.
Twenty-nine-year-old Jennifer Gray is one of those fighters. The Vacaville, Calif., Local 1245 member works as a customer service representative for Pacific Gas & Electric by day. But after hours, she puts her people skills to work as a political organizer, a role that quickly took shape after joining the IBEW in 2006.
"Before I started working here, I didn't really have much of a perspective on unions," Gray said. But a questionable management decision a few years ago – where a supervisor proudly said he was refusing to follow the bargaining unit's contract – moved her to volunteer for a shop steward position. Gray developed a larger interest in workers' rights, which she has taken into unit meetings at the utility and recently to the streets in Ohio, Wisconsin and Florida to help fight right-wing attacks on working families.
Now Gray and more than a dozen other fellow members from Local 1245 are preparing to head back to Wisconsin to help sister locals in their effort to recall Gov. Scott Walker, the divisive GOP leader whose crackdown on collective bargaining rights lit a firestorm of protest last year and brought workers' issues back into the national conversation. The local is just one of many across the U.S. and Canada that is engaging younger members, putting into action a mandate adopted by IBEW leaders during the 38th International Convention in Vancouver, B.C., last September.
The Local 1245 members' growing political savvy has been cultivated and nurtured by leaders, who created the local's Youth Leadership Development program in 2009. Seeking to tap the initiative of newer members, leaders say the effort provides a way to reach out and integrate youth into the local while providing them with valuable trainings and a path to higher positions.
"We've had positive results so far," said Local 1245 Business Manager Tom Dalzell, who spearheaded the initiative with organizers Eileen Purcell and Fred Ross:
We're seeing more participation at meetings, younger people are joining negotiating committees and they're stepping into leadership roles. We've hired three staff people under 40 years old in the past few years.
Dalzell points to AFL-CIO Secretary Treasurer Liz Shuler's efforts to reach out to youth as a catalyst for Local 1245's effort. Shuler, the former executive assistant to IBEW International President Edwin D. Hill, coordinated the first Next Up conference for young trade unionists in 2010. "We sent 10 young activists who came back and planned their own youth conference for the local, which brought 40 members together," Dalzell said.
From there, Purcell says growth has been exponential. "For the program to get bigger, it's a matter of identifying potential leaders, recruiting them for efforts and offering trainings," she said:
The young members take it from there. They help show their peers how the new generation can step up and invest in the union.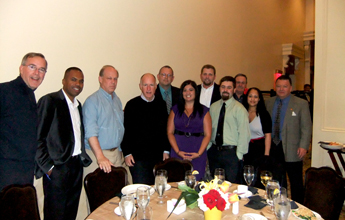 Local 1245 leaders and young members met March 30 with Calif. Gov. Jerry Brown, fourth from left.
Purcell knows that training is key. So Local 1245 leaders have organized events such as a day-long intensive workshop at University of California, Berkeley, with former U.S. Secretary of Labor Robert Reich. "We had 29 members there, and they dove in to the topics and had great discussion," Purcell said.
Another recent training and seminar was held with Stanford professor Clay Carson, director of the school's Martin Luther King, Jr., Research and Education Institute. Carson discussed with several dozen young members the principles of union membership from a historical perspective, and highlighted the ways in which trade unionism and civil rights go hand in hand.
For Local 1245's young members, such knowledge is translating into political engagement. Members like Steve Gallow, who works for Sacramento Regional Transit, and new business representative Lloyd Cargo met with Calif. Gov. Jerry Brown March 30 at a statewide seminar for electrical workers. Gallow participated in the AFL-CIO youth summit last year and is active in the regional chapter of the Electrical Workers Minority Caucus.
Last year, young workers helped coordinate the local's Solidarity Action Team, which helped mobilize hundreds of members to take part in pro-worker rallies across California and Nevada. They also made up one of the largest delegations at the second AFL-CIO Next Up conference last October, and members are gearing up to support labor-friendly candidates in the Ninth District and beyond ahead of the 2012 elections.
A particular boon to the local's effort was participation in the first-ever young workers delegation at the IBEW's 38th International Convention. Three representatives from Local 1245 joined dozens of their peers from across the U.S. and Canada for an immersive experience to learn union history, laws and structure.
"I was amazed – it was like a conference on steroids," said Gray, who attended the convention with fellow members Graciela Nunez and Lorenso Arciniega, who is on the AFL-CIO Young Workers Advisory Council:
It gave us a real sense of Brotherhood and it was energizing to meet all these people. It really felt like an extended family. I was inspired to do more when I got back home.
As unions nationwide work to shore up their membership numbers in the wake of outsourcing, offshoring and anti-worker political attacks, Dalzell said the Youth Leadership Development program is partly "a matter of survival:"
Young people today are coming into an America where, since 1980, there's been a systematic attack on unions. If the next generation isn't prepared to step in, and if we don't educate our younger members about what came before them, the union will disappear.
Union leaders say they have good opportunities to engage the next generation, as longtime workers retire and employers hire scores of new workers. Thirty-three-year-old Aaron Baker, for example, works as a lineman for Turlock Irrigation District and is one of the local's youngest and most active unit chairs.
International President Hill said that the local's program shows that "these young members are carrying forth the light of solidarity that we all shared at our 38th Convention":
The movement will only remain strong with an infusion of younger activists. The challenges these workers face today are staggering, but they have an opportunity to right the course of the economic ship. They are our future, and they deserve our wholehearted support to make a stronger IBEW and a better climate for working families in the U.S. and Canada.
Local 1245's young workers also developed and maintain the local's Facebook page. Click here to connect with them online.
Read more in the January 2012 Electrical Worker on how young workers in the First District are mobilizing and getting active.
Originally Published at //www.ibew.org/articles/12Daily/1204/120430_YoungWorkers.htm