CALPINE MANAGEMENT FLEES CORPORATE OFFICES
RATHER THAN MEET WITH WORKERS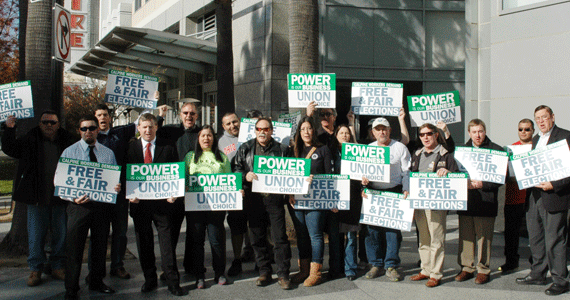 Calpine workers and their supporters in the Sacramento area rallied in front of Calpine offices near the state capital on Dec. 9, but found those offices abandoned when they tried to hand-deliver a letter to Calpine management.
Management's decision to close the Sacramento headquarters for the day rather than meet with employees didn't come as a big surprise. The company has seemed completely unnerved by their own employees, who have asked for union representation so they can have a voice at work.
But even if Calpine managers didn't want to hear what their employees had to say, plenty of other people did. The Calpine workers had a lengthy meeting with Gov. Jerry Brown and another meeting with an aide to Assembly Speaker John Perez. And at the rally prior to those meetings, the Calpine workers were praised by Sacramento area labor leaders, who pledged support for the workers' right to a free and fair union election.
"Let's be clear," said the leader of the Sacramento Central Labor Council, Bill Camp, as he pointed to the Calpine offices overhead. "That guy up there didn't build America–you built America."
"Your fight is our fight. And let us be clear, when this guy tries to stop you from having a voice, he's trying to stop every worker from having a voice," said Camp. "When he hires union busters, it affects every worker in Sacramento. This is our fight. All of us are in this together."
Mike Mowery, the International Vice President representing IBEW workers throughout the western United States, praised the Calpine workers for demonstrating "great heart" in trying to gain union representation. He criticized the company for spending large sums on union busting consultants when they could just as easily have used that money to improve conditions negotiated through collective bargaining.
"Stay steadfast," Mowrey urged. "Let's bust the union busters."
Aamir Deen, an organizer for Sacramento-area UNITE-HERE Local 49, also offered his support at the Dec. 9 rally.
"UNITE-HERE members and IBEW members have walked together against corporate greed in San Francisco and in Nevada. Electrical workers have been there for our fights here in Sacramento, and we're going to be there for IBEW whenever they need us, wherever they need us, until we win," Deen said.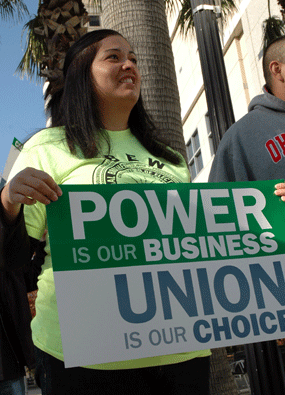 "That guy up there didn't build America, you built America," said Sacramento labor leader Bill Camp, right. Listening at left is PG&E employee Jammie Angeles, who attended the rally to show support for Calpine workers.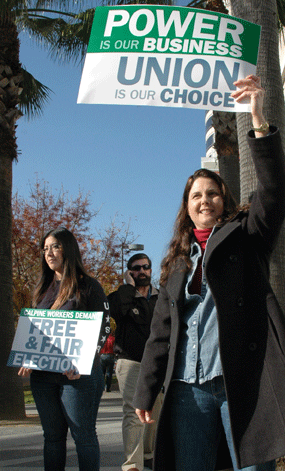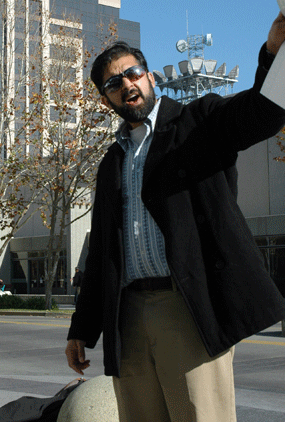 UNITE-HERE Organizer Aamir Deen, left, offerred his union's support for the Calpine union campaign. At right, Calpine employee Lisa Jones holds up a sign as passing cars honk in support during the Sacramento rally.