Calpine Workers at the Geysers announce intent to file for union election;
Management's anti-union campaign is condemned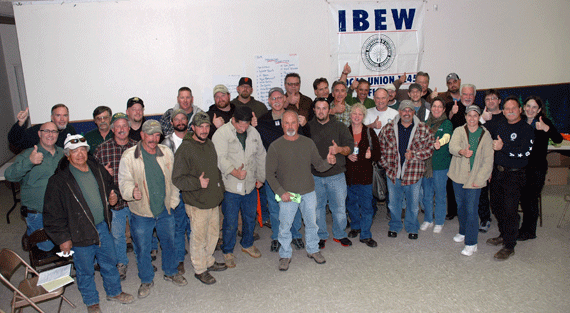 Nearly 50 Calpine workers and their supporters gathered at the Little Red School House in Cobb, CA on Nov. 17 to formally announce they will seek union representation by the International Brotherhood of Electrical Workers Local 1245.
The Calpine workers said they will file on Dec. 1 for a secret ballot election to be conducted by the National Labor Relations Board.
Calpine worker Mike Farmer, who first apprenticed in 1969 and has worked in union and non-union settings, led the Nov. 17 meeting, which served as the kickoff to the union election drive.  He introduced the 28-person organizing committee, which includes representatives from nearly every department at Calpine at the Geysers.  Farmer also thanked representatives of the religious, labor, and political community who have expressed support for the workers.
Workers spoke up at the meeting to explain that their primary reason for organizing a union is to win a meaningful voice and a place at the table so that they have a say in the decisions impacting safety, staffing levels, transparency regarding wages and  benefits, and the well-being of their families.  Mark Knaupp, a long-time operator at Calpine with more than 30 years experience, added that he is unionizing to win representation and described unions as the anchor of the American middle class.
Calpine ICE Technician Lisa Jones, a six-year veteran, shared her hope that by unionizing the workers would gain a place at the table and greater transparency and that "management will look us in the face and speak the truth."
Brian Gleason, an operator for 12 years at the Geysers and with more than 20 years in the industry, pointed out the recent example of management's failure to be fully transparent with workers.  "Two days ago management rolled out a new Paid Time Off (PTO) Plan. Management is advertising it as a flexible plan that will grant employees more time off, when in fact it is a re-packaging of current benefits and represents a net loss of days off due to the capping of sick leave days. Their roll out is a total misrepresentation of the facts. It is an insult to our intelligence and just so disrespectful," Gleason said.
Three years ago, when Calpine workers attempted to form a union, they were forced to withdraw their petition because the environment became so hostile that a free and fair election was impossible.
The current campaign, launched and driven by the workers, has received strong support and encouragement from IBEW Local 1245 staff and from IBEW Local 1245 members at other energy companies.
Strong Community Support
The campaign  has won strong support from local and national labor, political and religious leaders, who have called upon Calpine CEO Jack A. Fusco and his local management to cease its aggressive anti-union campaign and to negotiate common sense ground rules for a fair and non-adversarial election process.
Last month, former U.S. Secretary of Labor Robert Reich wrote an "Open Letter" encouraging Calpine workers to pursue their campaign. "Your unionizing effort …  has implications far beyond the Geysers.  By uniting in a union and pursuing collective bargaining you help get us back to a society where workers received a fair portion of economic gains – one of the prerequisites of a healthy democracy."  He urged Calpine CEO Jack A. Fusco and his management team to "meet with the leadership of IBEW 1245 to work out ground rules for a free and fair election and to desist from using union busters."
On Nov. 3 Assembly Member Wesley Chesbro sent a letter to Mr. Fusco in support of a free and fair election, and on Nov. 4 Assembly Member Michael Allen and State Senators Noreen Evans and Mark Leno also wrote to Mr. Fusco, urging him " to cease devoting further resources to … union avoidance specialists."  They encouraged him to "sit down with the leadership of IBEW 1245 to reach a set of mutually agreed to ground rules to ensure that both the letter and spirit of federal labor law are honored."  Congresswoman Lynn Woolsey, Congressman Mike Thompson, 15 interfaith leaders from Sonoma and Lake County, and the North Bay Labor Council have also written letters to Mr. Fusco and Calpine workers or passed resolutions in support of a free and fair election.
Union-Busting Firm
Calpine has hired The Alignment Group, an Arizona-based union-busting firm. Earlier this year, Tom Zigray, one of the partners of TAG who is leading the anti-union campaign at the Geysers, wrote in an op-ed piece  that "if you can convince your employees not to sign a union card, you will have a better chance of avoiding an election." (McKnight Publications, March 8, 2011) The NLRB requires the submission of "union authorization cards" by 30% of a prospective bargaining unit as a pre-requisite to filing for a National Labor Relations Board supervised secret ballot election.
"Management and union busters have been conducting mandatory meetings and 'one-on- ones' with front line workers to warn us against supporting the union," said Calpine operator Jay Hepper.
"We've been threatened with lay offs, loss of overtime, bonus pay, and an array of other penalties if we choose to unionize. Union supporters are being singled out. We've been fed all kinds of misinformation. They are trying to scare us. But we know our rights," Hepper said.
Fred Ross, Jr., an organizer with IBEW 1245, rallied the group at the Nov. 17 campaign kickoff when he said, "You are making history, just like the fire fighters, police, and teachers in Ohio who demanded and recovered their collective bargaining rights!"
At the Little Red School House, workers declared their unity and commitment to standing together in the face of the union busters and to assert their legal right to form a union and to have a say in the decisions that affect their customers and their families.
Father Raymond G. Decker, a member of the national steering committee of the 300-strong Catholic Scholars for Worker Justice, and the organizer of a local interfaith letter in support of the Geysers' workers, offered the closing blessing.   Father Decker thanked the workers for taking a strong stand to have a voice, saying "Your actions have implications for the entire community.  By standing up for your rights you are standing up for the rights of everyone in our community. You are not alone."  He promised the ongoing support and prayers of the local and national interfaith communities.
* * *
Calpine is a Houston-based multi-billion dollar corporation.  Calpine owns, leases, and operates 92 power plants in 20 U.S. states and Canada.  93% of its shares are owned by institutional investors. In 2010 operating revenue reached $6.5 billion dollars, with a net profit of $882 million dollars. Calpine employs 2,142 (full-time equivalent) workers. Revenue per employee (RPE) is calculated to be $3,055,556.
IBEW Local 1245 represents 20,000 utility and power plant workers at more than 50 employers, plus over a hundred contractors performing utility-related work in California, Nevada, Oregon, Idaho and Washington, including PG&E, NCPA, SMUD and NV Energy. IBEW 1245 union contracts provide its members  some of the highest standards in safety, pay and benefits in the industry.