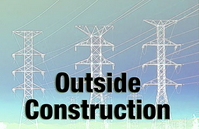 Construction work remains strong with several calls remaining open daily. We have work scattered all over our jurisdiction and on multiple properties, from PG&E to NV Energy to WAPA. We have seen some decreases in the number of distribution crews and overtime hours have been decreased for many more. Many crews who were working at least 60 hours a week have had those hours reduced to around 50 hours by the customer. Still there is plenty of work to go around.
With the reduction in the number of distribution crews we are seeing an increase in substation work which should employ a lot of workers through the winter months. Currently we have dispatched on a regular basis into our out-of-class journeyman book and have put several journeyman wiremen to work on some of these substation projects. Three new solar projects near Fresno County are just starting to kick off as well, which will employ some wiremen as well as operators and groundmen. Compliance inspectors have also been an option for many with some overtime being authorized for those workers as well. The biggest issues for those jobs have been the in-lieu-of benefits language which adds the dollar amount of the fringe benefits to the employees' wages instead of providing the fringe benefits such as health care and retirement. Many workers simply need the health care coverage.
This work outlook continues to look promising going into next year, not only in California but throughout the industry.
We continue to appoint shop stewards to help deal with minor issues on the jobs. We have made 32 new Outside Line Shop Stewards in the last few months to help with the large bubble of construction work we have going. Scott Hudelson is still on staff temporarily and has been visiting all the Outside Line construction crews on a monthly rotation. We have dispatched over 3100 IBEW workers this year–a fair amount of these workers are travelers. Having Scott on staff and in the field really helps acclimate the travelers to our contract, work methods and safety procedures.
We continue to ask people coming in to sign the books or to conduct other business through the dispatch office (including general information calls) to do so between the hours of 7-9 AM or 1-4 PM since our scheduled dispatch hours are from 9-noon. This will allow the dispatchers to get through the day's calls in the time allotted for that work. We have brought in additional temporary help again to assist in the increased traffic to the dispatch office.
PG&E Solar Project
PG&E held a dedication ceremony on Sept. 29 at the Westside solar site in Fresno County. The ceremony represents the first 50 megawatts (MW) under their 500 MW program. In attendance were the contractors that built all three sites, Congressman Jim Costa, PG&E President Chris Johns, and many others.
The next 50 MW have been awarded to Cupertino Electric and Q-Cells. They are currently doing the pre-site work and will probably begin calling members off the books soon.
Organizing
We've signed the following contractors in the month of October and organized dozens of new members:
Patriot General Engineering, OSL agreement
Global Tower Service, OSL agreement
Siller Construction, OSL agreement
Lentz Construction General Engineering Inc, OSL agreement
Utility Inspections Unlimited, Gas Inspection agreement
We are currently working on several organizing projects. We are trying to top-down organize DeerPath Corporation, from the Philadelphia area with their construction office in the Cleveland, Ohio area. DeerPath won the sub-contracting bid/award to replace the electric meters and gas metering element (no gas flow interruption) on NV Energy properties. If successful it will add 40-60 meter technician positions and 5-10 journeymen positions for the duration of this project. This project geographically covers most all of Northern Nevada. We have spent many hours on the phone with DeerPath and made one trip back to Cleveland, Ohio to negotiate a first agreement.
We are also pursuing Source Power of California and Kindness General Construction (KGC) for first agreements. KGC has been awarded work at the Russell City Energy Switchboard project in Hayward, CA. We have our first face to face meeting with both contractors in early November.
JATC
Mark Rolow spent two days of interviews at the JATC on Oct. 19-20. The JATC continues to try to gauge and control the number of new apprentices based on the amount of work and request of contractors. Thanks for the help, Mark. Anyone interested in getting into the apprenticeship program should monitor the California/Nevada JATC website for when the application process will open again (www.calnevjatc.org).
We currently have 289 outside line apprentices registered in our JATC program, with 22 traveling apprentices working in our jurisdiction.
103 apprentices working out of Local 1245
170 working out of Local  47
30 working out of Local  396
8 are off of work (2 are on disability – 5 are on leave of absence and 1 is off due to disciplinary reasons)
41 apprentices graduated this year to journeyman lineman.
102 outside line apprentices this year have been indentured
We have an outside line orientation/climbing class in progress. The class began Oct. 10, with 20 individuals invited to the class.
We have 8 traffic signal maintenance apprentices registered.
1 is working for Republic Electric in Local 1245's jurisdiction.
7 are working for Republic Electric in Local 47's jurisdiction.
13 traffic signal apprentices have graduated this year.
We have an outside line orientation/climbing class in progress. We invited 25 individuals to the class, 18 actually showed up the first day and we are now down to 15 individuals in the class. Their last day was Oct. 29 and we anticipate all will be quickly sent out to work.
Grievances
Grievance with Hill Construction that impacted several 1245 members over penalty pay has been resolved with the contractor issuing checks to all affected employees based on the delays in receiving their checks. A total of just over $26,000 in penalty pay was paid out.
Several grievances regarding penalty pay have been started this month. Contractors such as Asplundh, Henkels and McCoy and CANUS have all had some level of penalty pay issue. All but one has been resolved as of this report. This is not unexpected given the amount of work and influx of workers not used to working in our jurisdiction or under our agreement.
Wrongful termination grievance in the early grievance stages with Hot Line Construction.
Investigation into workers not being paid correctly continues with one of our testing contractors, UPT. As information is gathered and workers come forward this will aid in resolving this issue.
2011 Training Schedule
The final OSHA 10 ET&D for 2011 was held in Vacaville on Oct. 7-8. We will be working on a schedule for 2012 with the JATC. The JATC is working to train another instructor for the north area to provide more classes in 2012. If anyone is interested in taking this class at the JATC office in Riverside they will be providing one more class in early November. Please contact them directly to check on available slots for that class.
Shop Steward Grievance Training is scheduled for Dec. 10 at Weakley Hall in Vacaville. This training will be limited to 40 members.
First Aid & CPR is held the second Saturday of every month at our Riverside and Sacramento facility.
Special Events
The International Lineman's Rodeo & Expo was held Oct. 13-15. We planned for 18 apprentices to attend this year's event; in the end 9 apprentices traveled out to Kansas City to participate in the three-day event. We were very fortunate to raise a total of $20,000 in donations from various signatory employers. We thank them all very much. A video of some of our members competing in the rodeo can be viewed at www.ibew1245.com/video-files/videos.html.
The First Annual Clay Shoot is scheduled for Nov. 12 in Dunnigan, CA. Last minute walk-up sign-ins are welcome.
We have a committee formed for next spring's Local 1245 Gold Cup Soccer Tournament. We should have the date and location soon.
Next year's 16th Annual 9th District Softball Tournament will be hosted by Local 595/Dublin at Big League Dreams Park in Manteca, CA. It will be held Aug. 11-12, 2012. We should be scouting for teams now.
Injured Workers Fund
The balance as of September 30, 2011 was $340,106.72. We paid out one claim this month.
Dispatch
| | | |
| --- | --- | --- |
| | October 2011 | Year to Date |
| Lineman | 240 | 1650 |
| Apprentice Lineman | 21 | 173 |
| Equipment Man | 40 | 23 |
| Groundman | 96 | 281 |
| Fabricator Tech | 34 | 757 |
| Cable Splicer | 0 | 272 |
| Total | 431 | 3156 |


Ron Cochran, Senior Assistant Business Manager
SIDEBAR:
Headline: Out of Work Books (as of Oct. 26)
Lineman-1:  5
Lineman-2:  14
Lineman-3:  3
Lineman-4:  131
Equipment Specialist-1: 3
Equipment Specialist-2: 1
Equipment Specialist-3: 1
Cable Splicer-1: 1
Cable Splicer-2: 1
Cable Splicer-3: 4
Groundman-1: 4
Groundman-2: 4
Groundman-3: 137
Groundman-4: 334
Ron Cochran, Senior Assistant Business Manager