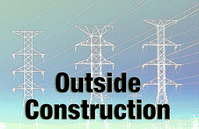 Construction work remains strong with 590 total calls in September, which is an increase of 90 over the previous month's call count.
We have work scattered all over our jurisdiction and on multiple properties from PG&E to NV Energy to WAPA, to name a few. This work includes transmission, distribution, substation and compliance work. We are working hard to get shop stewards appointed to deal with the minor issues on the job and Scott Hudelson has been performing crew visits on a monthly rotation.  We are running open calls daily with workers traveling in from all over the country to help man the work.  Asplundh has just been given some compliance inspection work with open calls for those positions as well.  Work outlook continues to be promising moving forward as the industry as a whole is experiencing shortages of linemen all over the country.  This has not only taxed the utility workers but the construction workforce as well.
Substation work is just now picking up and there is some difficulty filling the leadership positions for that work.  We have dispatched routinely from our Book 4 Out of Class Journeyman books for everyone else.  Posted below under solar work we should be digging into those books as well for the journeyman classifications.
Over the last couple of months we have brought in some temporary help in the dispatch office to deal with the high volume of traffic.  Those temporary workers' last day was Friday Sept. 30.  We continue to ask people coming in to sign the books or conducting other business through that office (including general information calls) to do so between the hours of 7-9 AM or 1-4 PM since our scheduled dispatch hours are from 9-noon.  This will allow the dispatchers to get through the days calls in the time allotted for that work.
Helicopter work using the long line method has picked up dramatically since it was mutually agreed upon as a result of a Local 47 grievance.  There are several issues that are starting to surface since this was put in place and will require the committee to meet again to resolve.  One of these is the ground to ground transport of groundman and other classifications other than lineman or apprentice lineman using this method.  The working document that was put together specifically states helicopter lineworkers.  Prior to a year ago this method was not allowed and now we are constantly being challenged to allow these classifications to be trained and use this method to transport these workers to remote areas.  This was never agreed to and we will actively challenge this through all means necessary if it is found being done on the job and hold not only the contractor but the member accountable.  There is current language in the agreement that supports our position.  There are a few other things that also need to be addressed that we are looking into.
Dispatch
SEPTEMBER REFERRALS:
| | |
| --- | --- |
| Lineman | 332 |
| Apprentice Lineman | 18 |
| Equipment Man | 35 |
| Groundman | 133 |
| Fabricator Tech | 38 |
| Cable Splicer | 0 |
| Other | 34 |
| | |
| Total | 590 |
BOOKS AS OF SEPT. 30, 2011:
| | | | | | |
| --- | --- | --- | --- | --- | --- |
| BOOK # | | | | | |
| | | | | | |
| L-1: | 4 | CS-1: | 0 | F-2: | 8 |
| L-2: | 18 | CS-2: | 0 | | |
| L-3: | 2 | CS-3: | 3 | | |
| L-4: | 109 | | | | |
| | | GM-1: | 3 | | |
| ES-1: | 0 | GM-2: | 2 | | |
| ES-2: | 1 | GM-3: | 90 | | |
| ES-3: | 1 | GM-4: | 288 | | |
PG&E Solar Project
PG&E held a dedication ceremony on Sept. 29 at the Westside site in Fresno County.  The ceremony represents the first 50 MW under their 500 MW program.  In attendance were the contractors that built all three sites, Congressman Jim Costa, Chris Johns, President of PG&E and many more.
The next 50 MW have been awarded to Cupertino Electric and Q-Cells.  They are currently doing the pre-site work and will probably begin calling members off the books sometime in October.
Organizing
We've signed the following contractors in the month of September 2011 and organized dozens of new members:
Alco Iron & Metal signed the Dismantling Substation Agreement
Asplundh Construction — signed the Construction Coordinator/Inspector Agreement
JATC
We currently have 284 outside line apprentices registered in our JATC program and have 7 traveling apprentices working in our jurisdiction.
91 apprentices are working out of local 1245
159 are working out of 47 14 – working out of 396
9 are off of work (4 are on disability – 2 are on leave of absence and the others are off due to disciplinary reasons or for personal time off)
We have graduated 39 apprentices this year to journeyman lineman.
We have indentured 79 outside line apprentices this year.
We have an outside line orientation/climbing class in progress.  We invited 25 individuals to the class–18 actually showed up the first day and we are now down to 15 individuals in the class. We anticipate all will be sent out to work in the near future.
We have 9 traffic signal maintenance apprentices registered:
1 is working for Republic Electric in 1245's jurisdiction.
8 are working for Republic Electric in 47's jurisdiction.
12 traffic signal apprentices graduated this year.
Grievances
1245 impacted members vs. Hill Construction is scheduled for Labor Management on Oct. 18.  This grievance deals with a penalty pay issue and talks continue up to this labor management date to resolve the issue.
Several grievances were started over pay and meals but have all been resolved in the first step.  This is not unexpected given the amount of work and influx of workers not used to working in our jurisdiction or under our agreement.
Investigation process in hours worked vs. hours reported with one of our testing contractors.
2011 Training Schedule
OSHA 10 ET&D will be held from 6pm-10 PM on Friday and 8 AM-4:30 PM on Saturday, Oct. 7-8. Unless we can secure more classes between now and the end of the year this will be the final training class for 2011.
Shop Steward Grievance Training – Dec. 10, 2011 –Vacaville. This training will be limited to 40 members.
First Aid & CPR is the 2nd Saturday of every month at our Riverside and Sacramento facility.
Upcoming Events
International Rodeo October 15th, 2011.  Apprentice Linemen who will participate in this event have been selected and arrangements are being made for this event.
1st Annual Clay Shoot — November 12th, Dunnigan, CA.
Injured Workers Fund
The balance as of Aug. 31 was $330,853.66.  We paid out one claim this month.